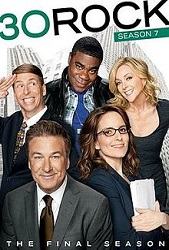 TV Info
---
Episode Premiere
December 03, 2009

Distributor
NBC

Genre
Comedy

Show Period
2006 - 2013

Production Company
Broadway Video, Little Stranger, NBC Universal


Cast and Crew
---
Director
Don Scardino
Screenwriter
Kay Cannon
Main Cast
Additional Cast
Synopsis
---
The moment has finally arrived. The debut of Liz's new talk show, Dealbreakers. If the show works, Liz is prepared for her life to be totally different. She is quickly brought back to reality when Pete needs her to talk Jenna out of her dressing room, due to her latest tantrum.
Jack receives a call from his nemesis, Devin Banks, regarding Jack's latest business venture with Liz's new talk show. Devin reminds Jack that if the show fails, he'll let everybody in Washington know that Jack squandered their bailout money on a talk show hosted by a woman with no performance ability.
Tracy tries to convince Angie to give him a daughter and she turns him down. Tracy is determined to do Angie right by buying her some jewelry, but something else catches his eye. An E.G.O.T necklace, representing performers who have received an Emmy, Grammy, Oscar, and Tony. Angie tells Tracy if he wins every one of those awards, she'll give him a daughter.
On Jack's advice, Liz gets a complete makeover, but Jack isn't sure how he feels about her new look. He turns to Jenna for help. Jenna tells Jack he needs to stop pulling Liz in two directions and it's time to nurture and coddle his new talent, not begrudge her.
Liz reluctantly puts Frank in charge of the writers as she prepares for her debut. Frank relishes the role--until he sees the amount of responsibility that comes with it. He also doesn't appreciate the writers ribbing him about becoming the next Liz. The next morning, the writers are shocked to see Frank actually dressed as Liz.
Jack's nightmare is coming true as Liz shows just how unprepared she is for this new life in the spotlight. Liz's photo shoot proves her inexperience. As Jack grows more nervous, Liz receives a bouquet of flowers from Devin with a note attached telling her that her show is going to be a disaster. Liz starts to freak out and pulls a "Jenna" by locking herself in her dressing room and refusing to come out.
Tracy is so determined to earn his E.G.O.T., he decides to compose the perfect song that will win him all four awards. But, when his song doesn't perform to the standard he's hoping for, he lashes out at all his bandmates, including Kenneth, Jenna, Grizz, and Dot Com. He turns to an E.G.O.T. winner, Whoopi Goldberg, for advice. She tells him he cannot fake his way to an E.G.O.T. and he has to follow his heart.
Tracy decides to follow Whoopi's advice and serenade Angie with a song he has written for the daughter he wants to have. Angie is seduced by Tracy's song and agrees that it's time to make another baby. Before he can give her "his gift," he warns her he may not be around that much because he's still trying to achieve is E.G.O.T. fame.
The next day, Jack checks in on Liz to see how she's doing since her meltdown. He apologizes for ever saying anything about her hair and Liz accepts. He tells her to not worry, he's sold Dealbreaker's opening titles to a Sheinhardt Universal soap opera and whenever a sponsored soap opera airs, Liz will be featured on TV.