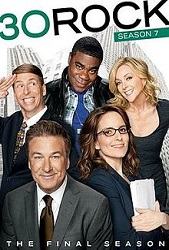 TV Info
---
Episode Premiere
November 05, 2009

Distributor
NBC

Genre
Comedy

Show Period
2006 - 2013

Production Company
Broadway Video, Little Stranger, NBC Universal


Cast and Crew
---
Director
Beth McCarthy Miller
Screenwriter
Matt Hubbard
Main Cast
Additional Cast
Synopsis
---
Liz and Pete are holding auditions for a new cast member on TGS, but have already selected their favorite in the process. Jenna freaks out AT the thought of a new actor on the set, but Tracy assures her the job is already going to a skinny white guy. Jenna tells Tracy that every new actor is a potential threat.
Jenna gets ahold of the audition list and realizes Jayden Michael Tyler is being set up to get the part and Jenna has a history with him. Liz accuses Jenna of being jealous. But Jenna tells Liz that Jayden humiliated her years ago after they were in a play together.
Liz begins to feel guilty about fixing the auditions so she allows Dotcom to audition for a role in TGS. Frank gets wind of the news and now he wants to audition. Pete warns Liz that she's now opened the floodgates for more wannabe entertainers. Just then, Brian Williams comes in to test his material on Liz.
Jack discovers he's been victim to the rampant invasion of bedbugs. He can't even sit in on corporate meetings because of his problem and his company car has been taken away. Instead, he's forced to take the subway, where he admits to the fellow passengers that he's in desperate need of medication for bedbugs, but everybody chooses to ignore him.
Jenna and Tracy come up with a plan to throw off the auditions. They travel throughout New York and alert everybody about the auditions happening at TGS. When all the actors show up to audition, Liz blows up at Jenna and Tracy for their antics and says Jayden will end up getting the part on the show no matter what.
Jack now knows the feeling of being shunned by society and has grown a softer heart, which doesn't help Liz's audition process. He tells her that all the actors that have shown up can have their turn to audition on stage. This includes Brian Williams, Kathy Geiss, Dotcom and TGS writers. Jayden is the last to audition and Jack loves him; only problem is that Liz is quick to realize Jayden filled his resume with lies.
Liz confronts Jayden and realizes he really is plain crazy, but the problem is Jack loves him. Liz pleads with Jack to let her hold more auditions, but Jack says the more talented actors are, the more crazy they are and Liz is going to have deal with that fact.
Jack says the conversation is over and they are hiring the robot actor for the show. Liz is relieved that this whole time, that was the act Jack loved the most and not Jayden. Jack loves the robot actor because he's the only one who treated Jack like a human being in the halls, even after knowing his bedbug situation.