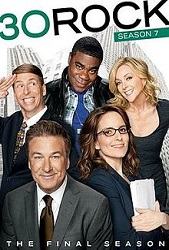 TV Info
---
Episode Premiere
October 15, 2009

Distributor
NBC

Genre
Comedy

Show Period
2006 - 2013

Production Company
Broadway Video, Little Stranger, NBC Universal


Cast and Crew
---
Director
Don Scardino
Screenwriter
Tina Fey
Main Cast
Additional Cast
Synopsis
---
Jack has a sit-down with Liz, Tracy and Jenna to explain the financial state of the company and wants TGS to start reaching out to ordinary people. Jenna offers to either go "country" or become a lesbian to help. Meanwhile, Jack wants Liz to quietly find a new cast member who will appeal to middle America.
Tracy makes his own attempt to relate to ordinary people by getting to know Rolly, the janitor. Things immediately turn awkward as Tracy wants to touch the rough skin on Rolly's his hands. On Rolly's way out, Grizz gives him some money and apologizes for Tracy's behavior. Tracy accuses Grizz and Dot Com of sheltering him and now wants to make it on his own.
Kenneth declares a page strike after Jack asks him to lie on his time card in order to comply with new rules saying pages can't work over 16 hours a day. This is the last thing Jack needs, while dealing with trying to find a new actor for the show. After discovering how much money Jack's bonus is worth, the strike escalates to the pages carrying signs and chanting outside 30 Rock.
Liz is continuing to hide the fact that she's looking for a new actor, in fear that Jenna and Tracy will freak out. Meanwhile, Jenna shows Jack and Liz her new country look, draped in red, white, and blue and a cowboy hat. Jack loves the look. Jack has landed Jenna a new gig for NBC sports, singing the theme for their broadcast of off-season tennis.
The writers suspect Pete and Liz are having an affair, from all their sneaking around. To keep everybody from finding out they are really looking for new talent, Pete and Liz confirm they are "intercoursing" each other. Pete's wife Paula overhears their confession and invites Liz to join them in their lovemaking. Liz cracks under the pressure and spills the truth about hiring a new actor for the show.
Liz and Pete watch Jenna film her NBC Sports tennis promo and discuss when they will break the news of hiring new talent on the show. When Jenna has a meltdown and accuses Liz of not doing her job, Liz snaps and confesses that TGS is getting a new actor. Jenna declares if it's a black woman, she will kill herself! Meanwhile, Tracy finds out about the search and declares if it's a white woman, he will kill himself.
After Jack's plan to get Len the private investigator involved in ending the page strike doesn't work, he decides to pay Kenneth a visit at his apartment. Jack plays dirty and tells Kenneth that if the pages aren't back to work Monday morning, he's shutting down the entire program.
Monday morning, Jack finds more picketers than ever before. Kenneth tells Jack that if he's supportive of lying, how does he know Jack isn't lying about ending the page program. All Kenneth asks of Jack is to admit he's a liar and the strike will end. Jack does just that and the strike is called off. Though, now, the pages are beginning wonder why they were striking at all.