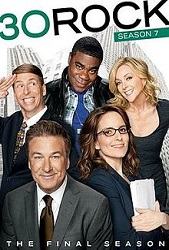 TV Info
---
Episode Premiere
May 14, 2009

Distributor
NBC

Genre
Comedy

Show Period
2006 - 2013

Production Company
Broadway Video, Little Stranger, NBC Universal


Cast and Crew
---
Director
Don Scardino
Screenwriter
Jack Burditt, Robert Carlock
Main Cast
Additional Cast
Synopsis
---
Jenna has been invited back to "The Vontella Show" to talk about her recent popularity with her TGS skit, "That's a Dealbreaker, Ladies" and offer up relationship advice.
Jenna has to invite Liz along since she coined the phrase and is on a magazine cover for it.
Liz ends up taking over the talk show and offering up the good advice.
Tracy refuses to speak at his alma mater's high school graduation and Kenneth finds out it's because Tracy never really graduated.
Though, it wasn't for reasons of drugs and crime, but because Tracy cried when he was faced with having to dissect a frog and out of humiliation, dropped out.
Kenneth is determined to work with Tracy and help him face his high school demons.
Jack finds out that he's not a match to give his estranged father a kidney.
Jack is still determined to save Milton's life and enlists in help from Liz.
Jack has the entire liberal media machine at his fingertips. He just needs Liz's help on how to access it, using the same power that elected President Obama.
Jenna recommends Jack put on a celebratory concert, like the one she did to benefit old gays.
Liz has been invited back to "The Vontella Show" to deliver more relationship advice and she realizes this is her moment to shine.
She begins delivering advice to coworkers and wives of coworkers.
The good news keeps rolling in when Liz gets a book deal out of her newfound moment.
With Kenneth's help, Tracy returns to Franklin Lucas High School to speak at graduation.
His speech motivates the audience and the principal presents Tracy with his own honorary diploma.
Once again, Tracy begins to cry in front of an entire room full of students.
Jack gets superstar singers, Elvis Costello, Sheryl Crow, Adam Levine, Clay Aiken, Mary J. Blige, as well as many more, to agree to perform at "Kidney Now!" Milton cannot believe the great lengths his son has gone through to find him a kidney.
Keeping in mind, that Milton was even at Weird Al Yankovich's benefit concert, "We are Pizza," years ago.
Liz is impressed with all the performers who have come out to sing at "Kidney Now!"
The rest of the cast and crew gather around to hear the sweet melodies of ...
...Elvis Costello...
...Sheryl Crow...
...Mary J. Blige...
...Adam Levine...
...Norah Jones, Sara Bareilles...
...Rhett Miller, Rachael Yamagata, Moby, Jenna...
...Wyclef Jean, Steve Earle, Michael McDonald...
...Adam Horovitz, Talib Kweli, Michael Diamond...
...Clay Aiken...
...Robert Randolph, and Cyndi Lauper.