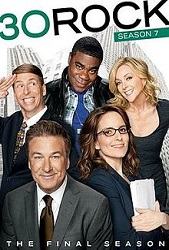 TV Info
---
Episode Premiere
May 07, 2009

Distributor
NBC

Genre
Comedy

Show Period
2006 - 2013

Production Company
Broadway Video, Little Stranger, NBC Universal


Cast and Crew
---
Director
Don Scardino
Screenwriter
Ron Weiner
Main Cast
Additional Cast
Synopsis
---
Liz tries to encourage Jack to find his real father, but Jack wants nothing to do with it. The last thing he needs in his life is more family to deal with. Jack tells Liz that more family just leads to more Easter egg hunts that turn into knife fights.
Word hits the presses that Tracy has an illegitimate son he's been keeping a secret for the last three years. He finally introduces the writers to his teenage son, Donald Jordan. Liz becomes suspicious when Donald seems to only care about how much money Tracy gives him.
Jack finds out there are three men who could be his real father. Liz lights up with the thought that Jack could be like the movie "Mamma Mia." Jack thinks Liz has officially lost her mind, but is intrigued at the thought of meeting all three possible fathers. Liz agrees to help Jack, but first she'll convince the three men they've won a contest and have to go to 30 Rock to claim their prize: tickets to TGS.
Liz continues to doubt Donald's story about being Tracy's son. Especially because she believes Donald is way too old to be just a teenager, unless Tracy is lying about being 39. Both she and Pete are determined to expose Donald as a con. Especially after they witness Donald sell four phony magazine subscriptions to Kenneth for $80.
After race and an injury rule the first two men out for being Jack's father, he meets Milton Green. Jack and Milton instantly spar over politics and Milton is not happy with how Jack treats contest winners by chastising them, and he storms out. Jack realizes he has just made a huge mistake.
A magazine names Jenna the funniest woman in New York after her line on TGS, "That's a Dealbreaker, Ladies!" takes off. Liz remains upset because Jenna refuses to give her any credit for coming up with the line. Jenna comes around and includes Liz on the photo shoot for the magazine. When Liz gets word that the whackiest photo usually makes the cover of the magazine, she decides to step up her game, using props.
Liz is surprised to hear that Jack's meeting with Milton didn't go as well as planned. When Jack tells her all they did is argue, she reminds him that arguments are what having a father is all about. She tells Jack to not walk away from Milton, he'll always regret it. She tells him if a relationship doesn't form, it doesn't matter, he's still Jack Donaghy.
Liz gets ahold of Donald's birth certificate and discovers he's really 40, which is older than Tracy. She tells Tracy the news and is surprised that he already knew about Donald's age. Tracy tells Liz that when Donald first started scamming him, he was reminded of himself when he was younger. Since Donald started taking Tracy's money, he has become a small business owner with a karate studio and opened a community center.
Jenna confronts Liz over their photo shoot. Jenna was right; the magazine chose the most outlandish photo to put on their cover. The photo of Liz dressed in a zany costume and acting like she was giving birth to a rubber chicken in a toilet will be the new cover. Jenna tells Liz she was never concerned with sharing the spotlight, just with Liz making a fool of herself. Which is exactly what she's done. Secretly, Liz is happy to be a cover girl.
Jack finds Milton and calls him back to his office to tell him the big news. Milton admits he knew Colleen back in 1958 and they did get drunk and have sex. Jack tells Milton he was the result of that one night. Milton is beginning to think the contest he won has to do with the movie "Mamma Mia." Milton embraces Jack as his son and tells Jack fate has brought them together, especially since Milton needs a kidney.