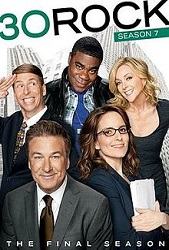 TV Info
---
Episode Premiere
April 09, 2009

Distributor
NBC

Genre
Comedy

Show Period
2006 - 2013

Production Company
Broadway Video, Little Stranger, NBC Universal


Cast and Crew
---
Director
Gail Mancuso
Screenwriter
Matt Hubbard
Main Cast
Synopsis
---
TGS just got done filming their 50th show and Liz and the writers are ready to celebrate. Jack crashes the party and takes Liz aside to announce cutbacks. Because of profit losses on the business end, Jack has to make cuts to the entertainment side. First thing that had to go with was Jonathan, his assistant.
Jack has tasked Liz with creating a presentation for Brad Hollster, one of the men responsible for making cutback decisions. Liz presents a big-screen show on what makes TGS worth every dollar. After her over-the-top elaborate presentation, Brad still wants to meet with Liz in the conference room and tells her she needs to cut 25 percent from her budget.
Ever since Jack fired Jonathan, he's taken Kenneth in as his new assistant. With Kenneth working two jobs now, Tracy offers to pitch in and feed Kenneth's birds. Kenneth is very appreciative of Tracy's offer, but has one rule for him and that is to not go into his bedroom. Tracy remains curious of Kenneth's request.
Jack's patience is wearing thin with Kenneth and it doesn't help that Liz is interrupting him as he's on a roll with firing employees. Liz is freaking out over the thought of possibly firing employees. Jack dishes out some advice. He tells her make her cuts and live to fight another day. She can't believe Jack can be simple about the situation.
Tracy is beginning to suspect that Kenneth is a serial killer, since he's so secretive about anybody going into his bedroom. Tracy alerts Jenna of his suspicions and they immediately run to Jack. But, they are surprised when it is Kenneth who stops them from seeing Jack. Jenna gets chills and is certain that Kenneth disposed of Jonathan and Kenneth really is evil.
Liz can't stand to see her employees lose their jobs or food from craft services, so she decides to use sexual espionage. She asks Brad out on a date and he accepts and then she finds the trashiest outfit she can find. If messing around with Brad will save her employees their jobs and keep food on the craft service tables, she'll do it.
Tracy and Jenna defy Kenneth's wishes and break into his bedroom. Instead of finding dead bodies, they discover a bug bomb smoking up the room. They come to the conclusion that this is a trip and Kenneth is trying to poison them. They run out of his apartment screaming.
When Jenna and Tracy ran out of Kenneth's apartment screaming, they forgot to close the door, causing the bug bomb to kill Kenneth's bird. Now, they have to break the news to Kenneth. He's saddened by the death of his bird, but even more saddened that Tracy and Jenna didn't trust him and didn't respect his wishes.
The next morning, Liz discovers cutbacks are still happening at TGS. She confronts Brad and asks why cutbacks are still continuing when she delivered the goods. Brad had no idea he was being used. Liz gets charged with sexual harassment and is suspended for two weeks without pay, but the good news is since Brad was offended and left his job, Jack has taken over and decides to fire Kenneth as his assistant.
Jenna and Tracy are feeling terrible about how they killed Kenneth's bird. They find Kenneth, after he's received word he will be designated as only a page, and give him the good news: they filled his apartment with a whole collection of birds. Kenneth celebrates with his new feathered friends.