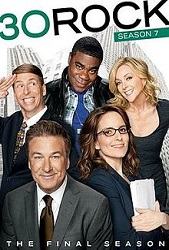 TV Info
---
Episode Premiere
February 12, 2009

Distributor
NBC

Genre
Comedy

Show Period
2006 - 2013

Production Company
Broadway Video, Little Stranger, NBC Universal


Cast and Crew
---
Director
Don Scardino
Screenwriter
Jack Burditt, Tina Fey
Main Cast
Additional Cast
John Hamm
MaryLouise Burke
Laila Robins
Allie Trimm
Synopsis
---
Liz is nervous because she made her first official date with her neighbor, Drew on Valentine's Day. Jack offers her some advice of having a nice evening in with a homemade meal and not stew, like Liz had suggested. Meanwhile, Jack will be in church with Elisa to celebrate St. Valentine.
Kenneth immediately falls in love with the new blind intern, Jennifer, but gets clumsy whenever she needs him. Tracy disguises his voice as Kenneth's and charms Jennifer into a date. After their romantic date on the set, she leans in for a kiss and Kenneth confesses he's been lying to her this whole time. After feeling Kenneth's face and not finding him attractive, Jennifer leaves him heartbroken.
Liz and Drew enjoy a pot of Liz's home-cooked stew at her place for Valentine's Day. They start out with small talk, until Drew interrupts to tell Liz her boob has slipped out of her blouse. She embarrassingly covers up and says she cannot believe he's seen her boob and it isn't even the fourth date, yet.
Jack hopes he can whisk Elisa away after church and take her to Plunder for the "Lovers' Delight", a $1,000 dessert he's been dying to have. When church services run late, Jack makes a desperate call to Jonathan in order to save his reservations at the restaurant. Elisa is not happy with Jack placing the call during prayer.
Liz's date goes from awkward to worst when she experiences stomach issues because of her cheese stew. While she excuses herself, Drew takes the brownies out of the oven and opens the kitchen window. When the wind blows in, Liz's bathroom door swings open exposing her on the toilet. She is completely mortified.
Elisa agrees that Jack has been good enough, so they sneak out of church early. But before they can head to Plunder, she wants to go to confession and orders Jack to do the same thing. Jack tells the priest he has nothing to confess, but starts bragging about his extravagant lifestyle, but that leads to a whole series of other confessions.
Liz and Drew agree to get all the bad stuff out on the first date to see if they will work out, especially after the boob and toilet incident. Their date is tested further, when Drew's troubled teenage daughter, Bethany crashes and Drew gets a call that his mother has taken a turn for the worst in the hospital.
After Jack describes sex with Elisa to the priest, he finds out he has an entire audience outside his confession, including Elisa. Elisa chastises Jack for not being religious at all and replacing faith with business. Elisa tells Jack that he will not touch her big boobs ever again and Jack has to go to Plunder alone.
Liz and Drew visit his mother's bedside. As Drew runs out to get her medical chart, his mother makes a deathbed confession to Liz. She tells Liz that Drew's sister is really his mother and then she dies. Outside the hospital room, Liz gets her goodnight kiss and offers to walk Drew out so she can tell him about the deathbed confession.
At the end of church, Elisa notices a McDonald's McFlurry coupon on the donations tray. She considers it a sign. The McFlurry is Jack and Elisa's favorite dessert. She finds Jack at McDonald's ordering one for himself. As they leave, they witness Drew and Liz with arms around each other and happy.