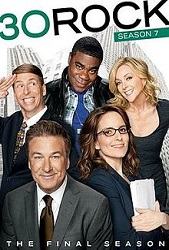 TV Info
---
Episode Premiere
January 22, 2009

Distributor
NBC

Genre
Comedy

Show Period
2006 - 2013

Production Company
Broadway Video, Little Stranger, NBC Universal


Cast and Crew
---
Director
Steve Buscemi
Screenwriter
Tami Sagher
Main Cast
Additional Cast
Chris Parnell
Elizabeth Rouse
Mark La Mura
Synopsis
---
Jack's GE Retreat for Forward Thinking is coming up and Jack is a little apprehensive about facing his old colleagues, since his stint at the White House. He proposes Liz tag along to be his camp friend. Liz agrees to go if the camp has a spa.
Tracy sees Dr. Spaceman for his physical and hears some pretty upsetting news. Dr. Spaceman warns Tracy that his lifestyle could lead to diabetes if he's not careful. When Tracy hears he could even lose his foot if he had the disease, he decides he could live with that by replacing it with a wheel. Tracy attaches a wheel to his shoe to test it out.
Jenna announces that in order to get into character for her Janis Joplin biopic, she will act like her throughout the day. Frank tells Jenna to look into Wikipedia for research, then quickly updates the site with a bunch of false information, including saying that Janis once ate a live cat and was known for her speed-walking. Frank admits to everything just before Jenna is about to consume the cat.
Jenna flips out on Frank after he tells her the truth. Frank didn't see how important this role was to Jenna until now. He tells her that between her yelling at him and her breath smelling like tequila, he's getting turned on and knows she could win an Oscar with such raw emotion. The two begin feverishly making out.
At the retreat, Liz begins acting like her funny self in front of Jack's colleagues. One of the guys takes Jack aside and tells him that Liz acts nothing like a subordinate in front of Jack and that can reflect on his leadership. Jack is now forced to sit Liz down and tell her she's making him look bad. Liz takes it personal and tells him their friendship is over.
The morning after, Frank and Jenna agree to never talk about their hook-up again. Jenna is shocked to learn that Frank wants to keep their rendezvous a secret, too. She claims to be the best thing that Frank ever did, but Frank begs to differ. Later on, when she catches Frank not talking about their hook-up, she blurts it out for all to hear. Jenna finds out that Frank is engaging in relationships with ladies all over, which is why he didn't want his affair with Jenna to come out.
Jack is preparing for his big speech at the retreat and invites Liz to sit with him at his table. She declines and Jack gets called backstage to put on his wireless mic and test it out. What Jack doesn't know is his microphone is on while he's giving his psych-up speech to himself in the mirror backstage. When Liz alerts him that the audience heard everything, Jack declares himself ruined.
In order to save Jack's reputation, Liz rushes the stage and announces that the voice they heard on the speakers was her voice, as she was practicing her Jack impersonation for the dinner. When nobody buys her story, Liz upstages Jack's humiliation by ripping open her shirt while singing and dancing. Jack calls Liz's move heroic, because her act made everybody forget about Jack's psych-up speech.