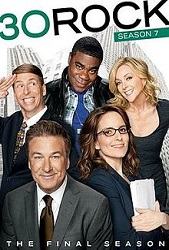 TV Info
---
Episode Premiere
November 13, 2008

Distributor
NBC

Genre
Comedy

Show Period
2006 - 2013

Production Company
Broadway Video, Little Stranger, NBC Universal


Cast and Crew
---
Director
Gail Mancuso
Screenwriter
Tina Fey
Main Cast
Additional Cast
Synopsis
---
Liz and Jenna are preparing themselves for a visit from their old Chicago roommate, Claire. Liz admits to Jenna that Claire is always exhausting and she doesn't know if she'll be able to keep up with her this time around. Within minutes of her arrival, Claire already invites Liz and Jenna to an underground party she has just found out about.
Jack shows interest in Claire and Liz warns him that she's crazy and he shouldn't get involved. Jack alerts Liz that it's too late; they already slept together within minutes of meeting in the elevator. Jack accuses Liz of being jealous of Claire because she took Liz's boyfriend away years ago.
Kenneth is down because of the new page uniforms. Tracy wants to do whatever he can to make Kenneth smile again, even if that means gathering up Harry Anderson, Markie Post, and Charlie Robinson from Kenneth's favorite show, "Night Court." Kenneth tells the cast that meeting them is the "greatest day of his life."
Jack is at a black-tie function when Claire surprises him and serenades him with "Happy Birthday" in front of all of his GE colleagues. He ushers her aside and tells her it's not his birthday and she needs to leave. Claire snaps and threatens suicide out loud. Jack begins to realize Claire really is crazy.
Kenneth is thrilled to find out that he can watch the "Night Court" wedding between Harry and Christine, the way it was promised to him by NBC and then never happened years ago. Kenneth's dream is crushed when Markie Post and Harry Anderson begin to fight and Markie walks off the set. Tracy convinces Markie and Harry to reunite and rehearse their scenes.
As a favor to Jack, Liz convinces Claire to drop her plans with Jack and go clubbing with her and Jenna. As Liz and Jenna wait at the club, Liz realizes Claire isn't showing up and calls Jack to warn him. He is shocked to see Claire inside his home, but then gives in and sleeps with her, again.
After Jack chooses Claire over her, Liz says he's dead to her. The day gets worse when Liz discovers Kenneth and Tracy shooting their "Night Court" reunion on the set and has to shut it down. Kenneth makes his plea as to why they should continue the Harry and Christine wedding skit, and they all gather for a group hug.
Jack and Claire are in line for a club and Jack has even brought his glow stick. Claire realizes that now that she's with Jack and Liz isn't trying to interfere anymore, the relationship is stale and boring. To prove they aren't boring, she plants a gun on Jack and orders the cops to chase him. This time, Jack is really convinced she's earned her nickname, "Silly Putty."
Tracy and Kenneth are finishing taping the final scenes of Christine and Harry's wedding. As a final salute, Harry declares it illegal to wear the new page uniforms and demands the new ones be brought back. Tracy lets Kenneth know he added that special part in the scene just for him, and Kenneth is ecstatic.