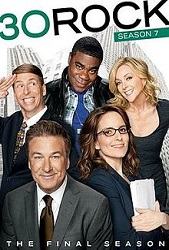 TV Info
---
Episode Premiere
October 30, 2008

Distributor
NBC

Genre
Comedy

Show Period
2006 - 2013

Production Company
Broadway Video, Little Stranger, NBC Universal


Cast and Crew
---
Director
Don Scardino
Screenwriter
Tina Fey
Main Cast
Additional Cast
Synopsis
---
A brightly dressed up Liz is strolling to work and is surprised to see Jack pull up on the sidewalk. He's not at liberty to say how he got out of his position with the government, but the most important part is he's back and determined to get his old job back from Devon. Liz explains she's all dressed up because the adoption agency is doing a home evaluation with her.
Jack confronts Devon about getting his old job back. Devon has already made himself comfortable as the guy in charge around 30 Rock. Jack vows he'll be on top again and Devon just laughs and then offers Jack a job in the mailroom. Jack accepts.
Liz is ready with all the answers when the adoption agency sends over Bev to interview her. Bev immediately starts asking very personal questions about work and her sex life. Bev decides it's time to pay a visit to Liz's work, since it's such an important part of Liz's day. Liz does not think that's a good idea.
Liz is frantically trying to make her work a clean environment before Bev arrives. Jack stops her and tells her that Cathy made a move on him; if he goes through with it, he can get his old job back, but he'd also sink just as low as Devon. But in the meantime, Jack informs Liz he's now been promoted to Director of Mail Services.
Bev tours 30 Rock and begins taking notes about what she sees. She interviews some of Liz's co-workers, all of them having one bad story after another regarding Liz. Jack interrupts the tour to take Liz aside. He tells her that Devon has lost his mind and plans on shutting down all of GE, and now Jack has to take over by going upstairs to do it with Cathy.
Before Jack can do it with Cathy, Devon comes back to the office early and Jack slips out. Meanwhile, Bev swings by looking for Liz. Liz pleads with Jack to be charming and he does just that. But it's too late, Liz's reputation is collapsing around her as co-workers begin fighting and her makeshift nursery gets taken down.
As Jack continues to sweet-Bev, Cathy shows up and attacks Bev out of jealousy. As soon as Bev escapes from Cathy's clutches, Frank accidentally hits her with his nunchucks. She falls unconscious, which gives Liz and Jack an opportunity to look through Bev's evaluation chart. Bev wakes up and has forgotten all about the evaluation and Liz is excited because she now gets a do over!
This time around, all of Liz's co-workers are pleasant and the interviews go smoothly. Bev breaks it down to Liz that even though she had a great experience while visiting Liz's workplace, she still isn't an ideal candidate for adoption. Just as Bev changes her mind on Liz, she forgets the entire evaluation and is ready to do it, again. Liz agrees it's time to take her to the hospital.
Liz gets word that Jack is about to have sex with Cathy and barges into the office. Jack shows Liz the TV playing Cathy's favorite soap opera and immediately Liz catches on. They begin to role play a soap opera storyline for Cathy. Cathy enjoys the performance so much, she hires Jack has her public advisor on all business matters, taking control away from Devon.