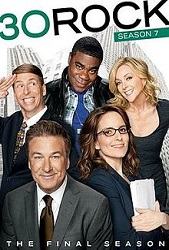 TV Info
---
Episode Premiere
October 11, 2006

Distributor
NBC

Genre
Comedy

Show Period
2006 - 2013

Production Company
Broadway Video, Little Stranger, NBC Universal


Cast and Crew
---
Director
Adam Bernstein
Screenwriter
Tina Fey
Main Cast
Additional Cast
Tom Broecker
Emana Rochelle
Ciaran Tyrell
Tabbie Conrad
Alison White
Anita Durst
Synopsis
---
Liz had to drop a sketch from her show, The Girlie Show. She was desperately trying to find an act to replace the sketch and asked her lead actor, Josh, to work on some impressions. The writers weren't that impressed with his Jay Leno, but loved his Ray Romano impression.
Liz and her show producer, Pete, met the new VP of Programming for the network, Jack Donaghy. He immediately came off as arrogant, wanting to make changes that amounted to re-tooling the entire show. First, he wanted to bring in a controversial actor, Tracy Jordan.
Tracy agreed to meet Liz at Alfredo's for lunch. Liz had to borrow a dress suit from wardrobe, because Jack said she was dressed for Burger King instead of Alfredo's and she needed to change. When she arrived, Tracy didn't want to stay there. He made Liz follow him to a place where they served food he liked.
After downing beers at Tracy's favorite soul food restaurant, he wanted to hit a strip club. Liz reluctantly followed him. Tracy tried telling Liz how he would bring ratings up for The Girlie Show. She tried to leave, but forgot her phone. When she got back to the strip club, she found Tracy on stage karaoke singing.
Liz couldn't believe that Jack fired Pete. She wanted to team up with Tracy and take back The Girlie Show. Meanwhile, the show was going live without Liz's return. Liz informed Tracy that she was going to quit. She called Pete to tell him and he said not to quit over his firing.
Liz returned to find the live sketch going terribly wrong. She asked Tracy to take the stage and start being funny. He didn't know how to act at first, but the audience loved him. Jack also thought he was a brilliant performer. Liz told Jack she would only stay if Pete got hired back, her number-one actress Jenna was safe on the show, and they put a cappuccino machine in the break room. Jack agreed.