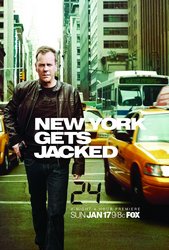 TV Info
---
Episode Premiere
January 18, 2010

Distributor
Fox TV

Genre
Action, Crime, Drama, Thriller

Show Period
2001 - 2010

Production Company
Imagine Ent., Fox TV, Real Time


Cast and Crew
---
Director
Milan Cheylov
Screenwriter
Chip Johannessen, Patrick Harbinson
Main Cast
Additional Cast
Akbar Kurtha
Necar Zadegan
Nazneen Contractor
Jennifer Westfeldt
Doug Hutchinson
Cliff M. Simon
Stefan Kapicic
Jaime Gomez
Benito Martinez
Synopsis
---
Both Cole and Hassan have survived the bombing, and Cole hurries Hassan to safety just before Davros, hiding in the shadows, can manage to shoot him. Davros is spotted ducking into a building. Chloe puts out an APB, which Jack sees as he speeds towards the scene with Officer Lu. In the limo carrying the rest of Hassan's family, Dalia is frantic. Farhad calls Davros and finds that his brother has survived. Davros tells him to get out; it's only a matter of time before he is suspected. Farhad exits the car and stabs the CTU agent guarding him in the neck with a pen, killing him, and makes his escape, as Dalia and Kayla scream.
Meanwhile, Cole pursues Davros into the building, but Davros gets the drop on him. At gunpoint, he orders Cole to say the area is clear, but Cole, after some hesitation, says the assassin is with him. Just before Davros can shoot him, Jack arrives and shoots Davros dead. Jack rips his shirt open, and finds an elaborate series of tattoos.
Hassan arrives at CTU and meets Hastings, who breaks to him the news that his brother was involved in the attack and that his own wife and daughter are witnesses. He asks to speak to Meredith, who will likely be cleared of all charges. Hastings says he'll arrange it. As he moves off, Hastings admits to Chloe that he underestimated her, and promises that her actions will be stated in his report. They then join Dana, who has been examining video Jack took of Davros' tattoos. They are identical to the tattoos on the Russian sniper and shooter that were gunning for Victor. They may indicate membership in a particular Russian crime syndicate. Dana has also found that the FBI once had an agent undercover with them... Agent Renee Walker. Hastings notes that Walker was fired, but Dana says they only need her to brief them. It's rare that anybody ever gets close to these paranoid Russian gangs; they need her intel.