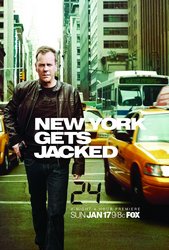 TV Info
---
Episode Premiere
January 17, 2010

Distributor
Fox TV

Genre
Action, Crime, Drama, Thriller

Show Period
2001 - 2010

Production Company
Imagine Ent., Fox TV, Real Time


Cast and Crew
---
Director
Brad Turner
Screenwriter
Manny Coto, Brannon Braga
Main Cast
Additional Cast
Elisha Cuthbert as Kimberly 'Kim' Bauer
Paul Wesley as Stephen
Claire Geare
Bob Gunton
Akbar Kurtha
Necar Zadegan
Nazneen Contractor
Jennifer Westfeldt
Doug Hutchinson
Jay Thames
Cliff M. Simon
Stefan Kapicic
Jaime Gomez
Benito Martinez
Synopsis
---
As crowds of New Yorkers point up at the smoking wreckage on the roof, Davros calls somebody and tells them to accelerate the hit on President Hassan; there's no knowing how much Victor told CTU before he died. On the roof, Cole reports to Hastings that two field agents have been killed. The chopper was supposed to have anti-ballistic defense. Why didn't it work? And why didn't they have another team checking the nearby buildings? Jack tells Hastings that the suspect is someone close to Hassan. Hastings orders Jack to come to CTU for debriefing. At CTU, Dana has a lead: there was an unauthorized access into one of the UN's secure databases. She and Chloe are assigned to trace it.
At the UN, as Presidents Taylor and Hassan take questions from reporters, Hastings calls Weiss and tells him to call off the conference. Weiss refuses; the treaty is important. At a break in the questioning, Weiss privately brings Taylor up to speed, while Hassan calls Meredith and arranges to meet her privately in his office. Meanwhile, Arlo has run diagnostics and found that the anti-ballistics picked up the missile, but didn't fire. He doesn't know why. Dana and Chloe find that Meredith was the digital intruder, and she downloaded security protocols, UN schematics and Hassan's itinerary. When they find that Meredith is at the UN, they alert UN security, who apprehend Meredith just as she's about to meet up with Hassan. Hassan is bundled in the opposite direction by UN security head Manning, who tells Hassan that they just got a call from CTU about a threat to his life. Hassan, in shock, watches Meredith as she is dragged away.
At CTU, Dana reports that the stolen files were found on Meredith's laptop. However, Chloe thinks it's all a little too convenient; it's like somebody wanted them to find Meredith. Hastings, annoyed with Chloe's belligerence, takes her off the floor and assigns her to Jack's debriefing. Jack and Cole arrive. Jack's surprised the insider was caught so quickly. Hastings takes Cole aside and asks him to falsify his report so as to cover up that Hastings didn't give Cole all the people on the ground he asked for; it'll trigger an internal review. Cole protests lying on record, but Hastings asks for faith in him... the same faith Hastings showed in Cole when he hired him despite his youth and inexperience.