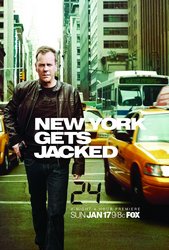 TV Info
---
Episode Premiere
January 26, 2009

Distributor
Fox TV

Genre
Action, Crime, Drama, Thriller

Show Period
2001 - 2010

Production Company
Imagine Ent., Fox TV, Real Time


Cast and Crew
---
Director
Jon Cassar
Screenwriter
Manny Coto, Brannon Braga
Main Cast
Additional Cast
Warren Kole as Brian Gedge
Peter Wingfield
Issach De Bankole
Tonya Pinkins
Mark Aiken
Hakeem Kae-Kazim
Synopsis
---
Larry expands the search for Jack and Tony because they abducted Renee. Sean intercepts a phone call saying that Renee can be killed because they don't need her.
Buchanan and Chloe arrive at the construction site where Tony has sent them. They dig up Renee, who is passed out. Buchanan pumps her heart and injects her heart with adrenalin to start it. Renee breathes. They explain that they are working with Jack, outside of any agency to uncover Dubaku's breach of the U.S. government. They plan to use Matobo to get to Dubaku.
In the van, Jack asks Emerson why he hasn't told Tony how he got him out of CTU. Emerson says that he was helped by Christopher Henderson, who purposefully missed Tony's artery when he "killed" him. Henderson wanted Tony alive. Emerson says that Tony chose to stay with his team because he was angry about what the government did to Michelle.
When the van arrives at a hangar, Emerson grabs Jack from behind. Tony pulls his gun on Emerson, saying he doesn't want to kill the Matobos. Jack urges Tony to take the shot and he does so reluctantly. Tony rushes to Emerson's side to tend to his wounds. Emerson refuses to forgive him. He then dies.
Jack calls Buchanan and tells him to come. He informs the Matobos that he is really working to stop Dubaku, and he needs to deliver both of them to Dubaku to get inside.
Ethan advises President Taylor to prepare to pull back troops because they need Matobo's support, and he is now missing. She is firmly against this.
Dubaku orders Nichols to dump all of Emerson's crew. With no caving from the President, Dubaku wants to next target an airplane heading for Washington. He calls the White House and tells Taylor to look out the window. She sees two planes collide and fall to the ground. He threatens to harm more if she does not comply. The President meets with the Cabinet, who all agree that they need to withdraw their troops because they cannot protect Americans from Dubaku. Taylor does not give in. "We will not be blackmailed," she says sternly to the discordant Homeland Security chief Tim Woods, asking for his resignation.
Buchanan drives to the hangar. As Chloe fits Matobo with a transmitter, Jack tells Renee that she would have never believed him had he told her the truth earlier.
In Samantha's condo, Henry Taylor sits on the couch paralyzed. When Samantha arrives home, she is surprised to see him there. He is unable to speak. Gedge stabs her from behind, as Henry watches helplessly. Ethan calls Gedge, looking for Henry. He is furious that Gedge allowed Henry to get near her, and Ethan orders him to return him to the White House. Gedge hangs up and puts Henry's fingerprints on the knife used to kill Samantha.
Tony greets Nichols at the hangar, telling him that Jack and Emerson are dead because he wants to keep the payment for himself. Tony hands over the Matobos. As Nichols' men are about to shoot Tony, Jack takes them out. Tony sends Nichols off with the Matobos. Chloe is tracking them.
Gedge rigs a rope to make it look like Henry hung himself. Henry musters up whatever strength he can and fights him. The two fall over the loft balcony, and Henry lands on Gedge, who is killed.
Annoyed that President Taylor will not give up, Dubaku sets up the next target -- a chemical plant in Ohio that, with a leak, will kill almost 18,000 people.