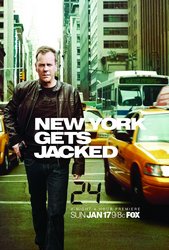 TV Info
---
Episode Premiere
January 19, 2009

Distributor
Fox TV

Genre
Action, Crime, Drama, Thriller

Show Period
2001 - 2010

Production Company
Imagine Ent., Fox TV, Real Time


Cast and Crew
---
Director
Jon Cassar
Screenwriter
Joel Surnow, Robert Cochran
Main Cast
Additional Cast
Mark Aiken
DaJuan Johnson
Adetokumboh M'Cormack
Synopsis
---
Larry Moss briefs Agent Remick about the Matobo situation. He learns that Tanner's lawyers are going after the FBI and calls Renee, who is on her way to the scene. "We got the information we needed," is her only answer. Larry demands that she return to the office, but she refuses, blaming herself for Jack's escape. Renee shuts off her mobile phone.
Sean speaks to his wife, who has landed. She wonders if he had something to do with her flight getting priority. He says she got lucky.
Locked in the safe room, Matobo tells his wife Alama that the people who have come for them work for Dubaku. He will not give up the names of his allies. She realizes that they want to use her to get him to talk. Alama encourages him to be the leader that the people of Sangala need. Sean calls Matobo's security guard, and Emerson sees the FBI number on the man's phone. Tony and Jack are insistent that they cannot leave without Matobo. Jack thinks he can flush him out with gas before the SWAT teams arrive.
Jack whips up something in the kitchen and blows it into the safe room's ventilation. Emerson warns Matobo, who doesn't want his wife to be sacrificed. Alama is afraid to die and opens the safe room door. Emerson's team carries them out into a waiting van.
Tanner's lawyers arrive at the FBI, but Larry doesn't let them question Janis because of the national emergency. Meanwhile, Renee arrives at the Matobo house and calls Larry about the abduction. One of Emerson's men finds her and takes her hostage. Renee curses at Jack, who convinces Emerson not to kill her, and they load her into the van as well. They pull away before the SWAT team arrives. "I can't believe I trusted you," Renee sneers at Jack.
Despite Ethan's argument, President Taylor still wants to authorize the military action in Sangala because she refuses to give in to terrorist blackmail. She is shocked to learn that Matobo was abducted by Jack and Tony, which now affects the U.S. invasion. Yet Taylor wants to find Matobo first before she meets Dubaku's deadline.
Janis picks up that there's something going on between Sean and another girl in the office named Erika. She assigns Sean a task. Larry is upset that Renee has been captured.
Emerson gets a call from Nichols. His source at the FBI said that Renee found out about their Matobo abduction by breaking Tanner. They detour to a construction site to kill Renee.
Janis notes to Sean that she thinks Larry has feelings for Renee.
Dubaku is concerned that the American troops have not withdrawn in Sangala. Nichols encourages him to use the CIP device to cause another attack and convince the President otherwise.
Agent Gedge tells Henry he will have a friend help decipher the thumb drive, and they head to the friend's house. Henry says he cannot take the evidence to his wife until he can prove his theory about his son's murder. They arrive at a condominium and Henry sees photos of his son on the mantle. Putting on rubber gloves, Gedge tells him that it is Samantha's apartment. Henry realizes that Gedge killed Roger. Suddenly, Henry falls down, almost paralyzed. Gedge spiked his coffee with a neuromuscular paralytic. Gedge says that Roger was "looking into things he shouldn't have."
Gedge calls another agent, Vossler, who is tracking Samantha. Their plan is to make it appear she killed Henry. Vossler approaches Samantha and says that Henry believes she is in danger. She goes with Vossler to her apartment.
Sean intercepts a call with mention of Renee. They hear Nichols instruct Emerson to kill her. Meanwhile, the van arrives at the site. Emerson instructs Jack to shoot her. Jack walks her out toward a ditch, and whispers in her ear to trust him. He points his gun at the back of her head and fires. Renee falls to the ground, still alive but with blood on her neck. Emerson sees Jack roll her into the ditch and place a plastic tarp over her body. Emerson orders Jack and Tony to bury her. Renee watches silently in fear as they shovel dirt on her.