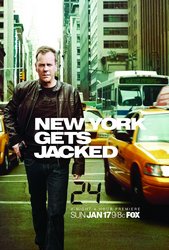 TV Info
---
Episode Premiere
May 25, 2004

Distributor
Fox TV

Genre
Action, Crime, Drama, Thriller

Show Period
2001 - 2010

Production Company
Imagine Ent., Fox TV, Real Time


Cast and Crew
---
Director
Jon Cassar
Screenwriter
Joel Surnow, Michael Loceff
Main Cast
Additional Cast
Salvator Xuereb
Jenette Goldstein
Randy Thompson
Cathy Herd
Kevin McCorkle
Synopsis
---
12:00 P.M.
Jack notifies Michelle at CTU that Rabens is still at large with the virus. He instructs her to have Saunders scan a live feed from the train station so that he can identify Rabens.
12:03 P.M.
Brad Hammond takes Tony's statement about working against the agency during the Saunders case. Tony admits to putting Michelle's life ahead of public safety and national security.
12:05 P.M.
Gael's wife, Theresa, comes to CTU. She asks Michelle about her husband's death. Michelle has Kim take Theresa to Gael's work station to pick up his personal belongings. Theresa notices a computer monitor showing a profile of Saunders, and she realizes this is the terrorist.
12:07 P.M.
A handcuffed Saunders is led to the Field Ops office. Chloe calls Kim for support, and Kim is forced to have someone else watch Theresa.
12:09 P.M.
As Jack waits impatiently, Saunders looks at screen shots from all the men detained at the subway. Before Saunders can identify any of the faces, Theresa walks over and shoots him with a gun from Gael's desk. Michelle radios Jack that Saunders is dead.
12:15 P.M.
Palmer is briefed on CTU's status. Wayne comes in to tell his brother that Julia killed Sherry and then turned the gun on herself. Although he is upset about Julia, Wayne explains that it frees them politically from being entangled in the whole Milliken scandal. The President is offended by Wayne's callousness and dismisses him. Palmer calls his children with the grim news about their mother.
12:19 P.M.
Jack secures the station and has every passenger thoroughly searched. Chase pulls Jack aside to let him know that after this mission he is transferring out of Field Ops. With a more stable job, he can look after both Kim and his baby. Jack says it's between him and Kim, but he will support whatever Chase decides.
12:21 P.M.
As the police officers corral the people in the subway station, Rabens opens up a blade and puts it in his pocket. He runs off. Jack notices that one of the men has disappeared from the line and he radios Chase.
12:22 P.M.
Jack finds two LAPD down, and he and Chase go out of the underground station. Another man lies stabbed on the street. A bystander tells Jack that the man was killed in a carjacking. Jack takes the dead man's license and radios the police. He and Chase get in their SUV. Jack calls Michelle to look up the car registration of the dead man.
12:28 P.M.
Michelle asks Hammonds to release Tony because they are understaffed. Rabens escaped and she could use Tony's help coordinating the tactical unit. Hammonds reluctantly agrees and sends Tony onto the CTU floor.
12:30 P.M.
By scanning traffic cameras, Chloe and Adam confirm the car carrying Rabens. Jack and Chase tail him. Tony sends backup, and two CTU cars block Rabens's vehicle. Rabens gets out and runs into a school. Jack and Chase follow, and the other agents lock down the building exits. There is no sign of Rabens.
12:38 P.M.
Jack continues to search the school, as terrified students are warned to remain in their classrooms.
12:39 P.M.
Chase enters an empty science lab. Suddenly, Rabens jumps out and slashes Chase in his gun arm. Chase drops the weapon and defends himself against Rabens. He throws the man's bag across the room and the device holding the virus falls out. Nearly unconscious, Chase clamps the device to his arm. Realizing Chase just turned himself into an anchor, Rabens activates the device to release the virus. He is about to shoot Chase when Jack arrives and kills Rabens.
12:41 P.M.
Jack goes to Chase's side. The clamp on the device can not be unlocked. Jack radios Tony and asks him to contact one of the teams who have disarmed the other devices. An agent leads Jack through the steps of dismantling the device. There is less than four minutes until it activates. However, the green wire Jack needs to cut is not there because the device on Chase's arm does not match the other devices. The agent looks for another solution. Chase tells Jack to leave, but he refuses.
12:45 P.M.
Chase sees an axe in the fire extinguisher box. He urges Jack to use it. Jack is at first hesitant, but he gets the axe and chops off Chase's arm. As Chase lies in pain, Jack runs off with the device ticking away. He radios for help for his partner. Jack enters a teachers' lounge and sees a refrigerator. He throws the device inside and shuts the door. The device releases the virus into the sealed refrigerator.
12:51 P.M.
Tony tells Michelle that he is back in custody and will be going to prison. Michelle is upset, and Tony kisses her. He is taken away.
12:53 P.M.
President Palmer phones Jack in the hospital to personally thank him for all he has done for the country. He also apologizes for making Jack take the life of Chappelle. The President tells Jack that he is not seeking reelection, and he says that he hopes they can become better friends once he is a private citizen. Palmer gives a solemn look to Wayne and hangs up.
12:56 P.M.
Kim enters the hospital and hugs her father. Chase is already in surgery, and the doctors are optimistic about his recovery. Jack says that he is happy for her future with Chase. "There's some things I have to do," Jack tells her. Kim waits for Chase, and Jack leaves.
12:58 P.M.
Jack exits the hospital and gets into his SUV. The weight of the day overcomes him and he starts to cry. CTU radios, but Jack doesn't respond right away. Finally, he answers the call to help interrogate Saunders's couriers. Jack wipes his tears and heads back to work.