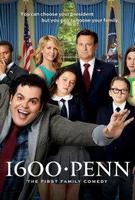 TV Info
---
Episode Premiere
March 28, 2013

Distributor
NBC

Genre
Comedy

Show Period
2012 - 2013

Production Company
20th Century Fox Television


Cast and Crew
---
Director
Jason Winer
Screenwriter
Jon Lovett, Mike Royce
Main Cast
Additional Cast
Synopsis
---
In an interview with Larry King, President Gilchrist and his wife Emily recall their abbreviated courtship; they fell in love and got married so fast they didn't even have a wedding. Trying to justify the untraditional move, Dale off-handedly ponders the point of weddings in general. Of course, the national media scoops up the talking point and begins questioning whether the White House is anti-marriage. And when investigative journalists uncover evidence that Dale and Emily's marriage certificate was never legalized, they're forced to go searching for the original document. Unfortunately, no one knows where it is...
When Dale and Emily address their family about the documental crisis, the only one that seems to remember anything about the day they married is Skip - it's all still crystal clear in his head. Dale kisses his bride under the state capital dome, and Emily gave Skip some important papers to mail, and then they all went to Waffle Circus! When Skip realizes what he said, Dale and Emily realize he never mailed in their marriage license. They may not actually be married! Skip sulks out of the room, hoping to fix the mess he's created.
Skip rushes into the Oval Office with a wild idea - what if the White House turned the tables on the press and showed how approving Dale was of marriage by throwing a huge wedding of their own at the White House? The media would eat that up! Marshall can't believe he's agreeing with Skip, but the idea might actually work. But when Emily's advisor Winslow suggests politically correct ways they can proceed with the ceremony, Skip's lavish ideas don't help anyone. He goes to Stacey to lament Winslow's plans to "ruin" Emily's wedding and gets some timely advice - for once, Skip should focus on one significant gesture everyone will remember instead of going too far with everything else. He leaves inspired, though Stacey worries her message was misinterpreted.
Elsewhere, Becca is using hypnosis audio to get in a relaxed state and increase her endorphin levels. Her baby bump is noticeably bigger. D.B.'s mind is elsewhere, though. When he tries to bring up the topic of marrying Becca, she scoffs at the idea, and he nervously plays along, though it's clear he's a little hurt. Later, when D.B. hears about the President's wedding plans, he gets an idea of his own - double wedding! Becca quickly shuts down the idea; they're not there yet as a couple, and she's far too worried about giving birth at the moment to think of anything else. D.B. hopes Marshall will have some words of encouragement, but when he agrees with Becca's slow approach, D.B. is left wanting more.
Emily's found the perfect dress for her wedding, but Winslow informs her of the garment's poor performance in focus groups. Winslow's please-everyone approach to this wedding is getting old fast, and Emily grows tired of having to do everything for political expediency. She asks if she can at least wear the diamond earrings her grandmother gave her years ago, and though Winslow worries they might be conflict diamonds, he reluctantly agrees. She sets off to find them.
In her search for her diamond earrings, Emily inexplicably finds the marriage certificate everyone thought Skip lost. Emily realizes she took the license from Skip and mailed it herself after she caught him doodling on the back of it at the Waffle Circus. Emily let's Dale know they're legally married after all, so this whole stressful wedding doesn't have to happen anymore. But when Dale sees Emily in her dress, he falls in love with her all over again and asks if she'll marry him a second time - he wants her to have the wedding she always deserved.
On the day of the wedding, Becca can't find D.B. anywhere and worries she hurt his feelings. As the minister begins the wedding procession, Skip makes a scene as he comes out with a crooner's microphone. Dale is horrified, but when Stacey joins Skip with her harp and the two perform Cindy Lauper's "Time After Time," the gesture is actually not all that bad. Unfortunately, that song is Becca's birthing song. Her water breaks right there at the wedding, and Dale quickly kisses the bride to make the wedding official before rushing his daughter to the hospital.
Becca doesn't want to give birth to her child without D.B. present, but he's nowhere to be found at the moment. On the way to find D.B., Marshall comes clean to Dale about his previous relationship with Becca; he fears it's what made D.B. run off. The group finds Becca's boyfriend at a Navy recruitment office, attempting to become the man Becca originally thought he was. Marshall convinces D.B. he doesn't have to be anyone else but himself in order to please Becca - she loves him for who he is and was a wreck at the wedding without him. Dale orders D.B. to join them as they rush to make Becca's labor.
In the hospital, Emily is helping Becca prepare to give birth. When they're alone, Becca apologizes for being so hard on Emily over the past couple of years. In truth, she really admires Emily and wishes her career path could resemble Emily's in the future. Emily tells Becca, even though she doesn't have kids of her own, she feels blessed to call Becca her daughter. Becca loves Emily, but this birthing process on the other hand...
D.C. is experiencing serious traffic jams due to the previously planned White House wedding, and now the President is stuck 10 blocks from the hospital. Dale jumps out of his car and runs the remaining distance in his tuxedo, followed by a sea of secret service. They arrive just in time, and D.B. holds Becca's hand as he talks her through the hypnosis techniques he memorized on his own time. Becca gives birth to a boy, but when its complexion is clearly darker, it becomes obvious the child is Marshall's. The First Family will have to roll with the surprise, just like they've rolled with everything else - by sticking together.