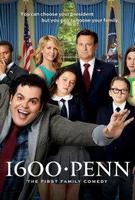 TV Info
---
Episode Premiere
March 28, 2013

Distributor
NBC

Genre
Comedy

Show Period
2012 - 2013

Production Company
20th Century Fox Television


Cast and Crew
---
Director
Jason Winer
Screenwriter
Peter A. Knight
Main Cast
Additional Cast
Synopsis
---
Marshall announces that the White House is welcoming Princess Abigail of Andorra. She's thrilled to be in the U.S. - because it'll give her a chance to meet Skip. Apparently Skip's something of a bad boy celebrity in Andorra. Marshall tells Skip that the princess has invited him to escort her to a gala tonight. Skip's thrilled. At the princess' White House press conference, Skip bursts in to unveil a handwritten scroll, welcoming the princess to America. She's as charmed by the gesture as Marshall is appalled by it.
Emily tells the President she's busy tonight. Her Game Changers policy group is meeting; Dale tells her he's busy studying some draft legislation anyway. They've put Becca and DB in charge of watching the younger kids. Becca sees it as a dry run for parenting; DB isn't quite so sure. They kick off the babysitting by playing some videogames together. Becca's dismissive, but after giving it a try, soon finds she can't put the controller down. Even DB and the kids are worried. DB sends them off to do their homework, while he explains the addictive perils of gaming to Becca.
The President is bored to tears studying the legislation. He asks his Secret Service agent Pete to take him to Emily's Game Changers meeting; the President figures his wife is as bored as he is and could use a break. But when the President gets to the meeting, he discovers that Game Changers is actually a cover for a secret poker game. Emily explains that the group started off discussing policy but that it evolved into something more fun. The President wants in.
Skip and the princess head for the gala in a limousine. Skip's dressed in a tuxedo ready for a formal night of state revelry. Bu the princess has other ideas. She instructs the driver to lose the trailing security team, asks Skip if he's cool, and then kisses him and proceeds to change from her ball gown into club wear. She's taking Skip out on the town. They head for a dance club called Carcass, filled with blaring beats and a psychedelic crowd. The princess fits right in, but Skip is flipping out. Marshall calls to check on him; Skip pleads to be rescued.
The President's enjoying himself immensely at the poker game. But's Emily's not having any fun. She explains to Dale that his addition to the game has changed everything. Everyone is fawning over the President, laughing at his every joke; he's ruined the friendly dynamic she's worked so hard to put together. She points out that he's really "in a bubble" of people who hang on his every word.
At the club, Marshall finds Skip, dancing wildly and wearing furry angel wings. Marshall tries to grab him and go, but Skip's now enjoying himself immensely. Smitten by the princess and a new forbidden lifestyle, he refuses to leave. Marshall points out that the princess is now making out with another club-goer. Skip's shocked; they return to the White House where Skip goes to sleep it off and soothe his once-again broken heart. In the morning, Marshall explains to the President that the clubbing incident has made the international press. Dale goes to visit Skip and console him.
The princess asks Skip if he'd like to accompany her to a state brunch. Skip is tempted but stays strong, telling the princess they're breaking up. The princess heads off with Marshall to her motorcade. Back in the White House, Skip finds Stacey and apologizes for cheating on her. Stacey's confused, reminding Skip that he couldn't have cheated because they've never been together. Skip explains that he cheated on the idea of them - far worse than actual cheating in his mind.
After lunching with her Game Changers women friends, Emily discovers that she's just as much inside the bubble as the President is: her friends fawn over her every word. She laments to Dale, and they agree to share their life inside the bubble together from here on out. DB arrives carrying an exhausted Becca in his arms; she's been binging on videogames. DB puts her to bed. Xander and Marigold arrive and tell their parents that DB's shown them a perfect example of why too much gaming is bad for you. Maybe DB won't be such a bad father after all.