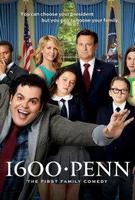 TV Info
---
Episode Premiere
March 21, 2013

Distributor
NBC

Genre
Comedy

Show Period
2012 - 2013

Production Company
20th Century Fox Television


Cast and Crew
---
Director
Sanjay Shah
Screenwriter
Jon Lovett
Main Cast
Additional Cast
Synopsis
---
The President is meeting with Postmaster General Lou Berryman about a rate hike when Skips bursts in demanding to know why the boots he ordered have not been delivered yet. Moments later Xander arrives wearing the boots. Skip is incensed and chases after him.
The President discusses tonight's "date night" with Emily; he's hoping she's as unexcited about the planned trip to take in an Ibsen play as he is. But the First Lady's looking for a little romance and is gung ho. At a private luncheon with the first couple of France, Dale laments about the pressures leading a country can put on a couple's relationship. The French leader counters that Dale's taking his responsibilities too seriously; he personally never misses a chance for a romantic evening. He suggests to the Gilchrists they follow his foolproof formula: make a spicy dinner together, take a hot bath together and then complete a puzzle together.
Becca and DB are getting ready for their own date night. DB wants to watch a prank-filled movie together; Becca is appalled but acquiesces. Emily asks Skip to look after Xander and Marigold; the youngsters are already running wildly all around him. Dale asks his son to step up and be the man of the house for one night. Skip is touched and agrees to do his best. Skip's only real duty is to get the kids to finish their homework, brush their teeth and get to bed at a decent hour. But it proves a tough challenge from the start as the kids make a beeline for the video game console instead of the homework table. Skip finds his dad and begs him to lay down the law.
In the White House film screening room, Becca and DB are watching the sophomoric, prank-filled film. Marshall stops by, wearing a beret, carrying a French new wave film and a bottle of wine. He had come to relax, alone. But instantly Becca invites him to stay; she loves the movie he's brought. DB agrees it's okay to watch the French film and they all sit on the couch. DB leaves to use the bathroom and Becca and Marshall debate whether DB knows about their past relationship. When DB returns, Becca blurts out that she and Marshall were involved - but are just friends now.
Skip continues to struggle with controlling his younger sister and brother. He finds Xander on his bed, reading Marigold's Cosmopolitan magazine; he has many questions. Skip does his best to skirt the inquiries and takes the magazine back to Marigold. He asks Marigold why she's reading it. She tells Skip she wants to know how to get girls to like her. Skip realizes Marigold likes girls not boys; he runs off, terrified. Xander finally heads to bed. Skip checks in with Marigold, apologizing for his negative reaction to her disclosure earlier. She accepts and they say a sweet goodnight.
Dale and Emily have finished their dinner and are now in a very hot bubble bath. They're rather uncomfortable but they've agreed to follow the French president's plan. Skip bursts in again but they shoo him off. Wilted, the First Couple head for bed and are ready to go to sleep when Emily finds new strength. She leaps out of bed, grabs a 1500 piece puzzle and insists that Dale finish it with her. They complete it quickly - and are soon all over each other like two teenagers necking.
Back in the screening room, DB declares that he's okay with Marshall and Becca's past relationship. Marshall complains that he's not okay with the way Becca just makes major decisions on other people's behalf - like revealing their romance to DB. DB agrees that Becca can be controlling; the guys bond briefly over Becca's faults. Marshall tells DB he can't believe he once had feelings for Becca, but DB mishears it and thinks Marshall is still attracted to her - so he punches Marshall in the cheek. DB immediately regrets it. He invites Marshall to strike him back as a punishment. Marshall hits DB and then leaves, disgusted. Becca makes the most of it, inviting DB to turn his juvenile movie back on.
The next morning, Emily and Dale are visiting with the French first couple. Emily reveals they followed the French president's amorous advice to the letter. The visitors are confused about Dale and Emily's recounting of finishing the jigsaw puzzle. Apparently something was lost in the translation. Their idea of a puzzle involves four people; they promise to show Emily and Dale when they come next to visit France.