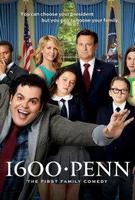 TV Info
---
Episode Premiere
March 07, 2013

Distributor
NBC

Genre
Comedy

Show Period
2012 - 2013

Production Company
20th Century Fox Television


Cast and Crew
---
Director
Jason Winer
Screenwriter
Ryan Raddatz
Main Cast
Synopsis
---
During a press briefing, Marshall's shocked to discover that Skip has started podcasting from the White House. Marshall rushes to the Lincoln Bedroom to find Skip and Xander in full radio confessional mode. Seeing a PR disaster in the making, Marshall wants it shut down immediately. After some negotiation, Skip convinces Marshall to be a guest on what Skip promises will be his final podcast. Marshall agrees.
Emily's been summoned by Marigold's teacher to the school to discuss a concern he has. Before they can get started, Becca shows up to the conference uninvited. The teacher delivers the bad news: Marigold qualifies for an honors algebra class - yet she's chosen to take regular algebra. Becca and her mom scramble to deal with the intellectual crisis. Back at the White House, Emily talks to Marigold. Marigold explains that she's only avoiding the honors class because of a class scheduling conflict; the class time is at the same time as a photography course she wants to take. Seeing creative wings on which Marigold can fly, Emily backs off on her demand that Marigold take the advanced class. Later Becca castigates Emily for letting Marigold shirk her mathematical responsibilities. You got played, Becca tells her stepmom.
Marshall's enjoying himself immensely as Skip's guest. Marshall recounts some early days - including his duties writing personal letters for then Congressman Gilchrist. Skip stumbles onto a very uncomfortable truth: the heartfelt letter from his dad that he got as a kid while homesick at summer camp was actually written by Marshall! It's heartbreaking.
At an award ceremony to recognize outstanding math students, Becca works on Marigold to change her mind; she tries to introduce her to fun kids who love math, but it's to no avail. Finally she tries bribery: she promises a visit with soccer star Hope Solo; the offer incents Marigold to agree to take Honors Algebra. Emily's upset at Becca's tactics and takes her to task in front of the crowd. The President steps to the dais and tells the assembled young math whizzes how proud he is of their achievements. Out of the blue, a furious Skip interrupts him, calling him an "outsourcer of fatherly love."
The President knows he has to make amends with his son for not writing the letter personally. Marshall brokers the deal: If the President will appear on Skip's podcast (and give him two bags of potato chips), Skip will forgive him. Dale takes the offer.
Emily and Becca appeal to Marshall to decide who's right and wrong in the handling of Marigold's class decision. They both tenaciously present their sides of the story. Before Marshall has to pronounce on a winner, Marigold appears and announces that she misread the schedule: she's actually able to take the photography class and Honors Algebra. Marigold leaves and Emily and Becca insist that Marshall decide who was right. He tells them they were both wrong for the way they handled themselves in public.
Skip puts his dad's feet to the fire during the podcast. He insists that the President tell him of at least one moment in which he was genuinely proud of Skip. The President recalls Skip striking out in T-ball, falling off the school play stage and failing at a recent open mike night. He tells Skip he admires his ability to get back up after falling down. And the President has something even more valuable to share: a letter he kept from Skip from camp all those years ago. Skip had written his dad about how, even though the camp was tough, he refused to quit. Skip's incredibly touched that his dad saved the letter. Skip has Xander cue some sentimental music and gives his dad a warm hug.