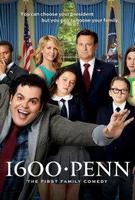 TV Info
---
Episode Premiere
February 21, 2013

Distributor
NBC

Genre
Comedy

Show Period
2012 - 2013

Production Company
20th Century Fox Television


Cast and Crew
---
Director
Jason Winer
Screenwriter
Lara Gutin Peterson
Main Cast
Additional Cast
Synopsis
---
Skip bumps into a White House tour and decides it's far too stuffy and boring. He tries tagging along, touching statues and breaking glassware as he offers his own colorful commentary; it's clear the official guide doesn't want him there. Hearing that certain areas are off-limits, Skip declares that the people's house should be open to all.
The President's brother Doug comes to Washington for a visit. Emily's apprehensive; Doug always seems to take his brotherly rivalry a little too far. The President tells her it's normal for brothers to tweak each other. Sure enough, Doug is soon entertaining the First Family with high school stories about Dale, in particular the day that Dale skipped out of a big wrestling match. Doug had to step in and was pounded by a nasty opponent. The President explains he was sick that day, but Doug still doesn't believe it.
Marshall preps Becca and DB for an upcoming TV interview with Mary Hart. DB's dense as ever, but Marshall tells him to just smile and let Becca do the talking. When DB leaves, Becca complains to Marshall that she's not feeling prepared - especially since Marshall cancelled on their planned prep session the night before. Marshall explains that he was visiting his sick uncle. Marshall steps away, and Becca picks up his phone and scans the text messages. She finds an interchange between Marshall and someone named Veronica. Veronica is thanking Marshall for their date last night. Becca's livid: her former boyfriend is lying to her! She can't help herself. Using Marshall's phone, Becca texts Veronica, telling her, "It's not gonna happen." She hits send and immediately regrets it.
Skip, who worships his Uncle Doug, gets inspired after talking business with him. Skip decides the time has come for him to offer his own White House tour. He finds a tour in progress, then entices the tourists to his own excursion. But Skip doesn't really know any real White House history, as a skeptic on the tour quickly points out. Still, Skip is determined and begins taking the group into the private residence, showing them the President's bedroom.
The President and First Lady repair to their bedroom; Dale is angry with his brother for how he's been treating him. Emily encourages him to tell Doug how he really feels, to get their issues out in the open. The President agrees it's worth a try. Emily goes on to explain that Doug's probably harboring an ancient grudge about the high school wrestling match. If Dale hadn't opted out of the match that day, Doug might have been the one to go to the Naval Academy - and maybe even end up President. Meanwhile, Skip's tour group has overheard the whole thing, safely hidden behind the bathroom door of the presidential boudoir.
Doug and Dale have trouble pulling off a heart-to-heart discussion - so Emily pops in to get things started. Soon enough, the President is confessing that he feels Doug puts him down constantly. It seems like things are patched up until Dale mentions to Doug the theory that Emily espoused: that Doug resents Dale because of the turn of events his life took after he subbed for him wrestling that day. It's an epiphany for Doug - and one that soon has him screaming at Dale: "I should be president!" In seconds, they're wrestling in the Oval Office.
As Becca gets ready for her interview, Marshall calls her on sending a text from his phone. She explains that she thought she was being clever, but realizes it was wrong. Marshall explains that he's moved on from their relationship and so should she. Becca agrees. During the interview, she stays calm and cheerful, until Mary Hart presses a bit on how she's feeling. Becca begins crying.
The President and his brother are tearing up the Oval Office furniture as they fight their long-simmering feud. Emily and a pair of Secret Service agents rush in to protect the President, but he waves them off, saying it's a family matter. The brothers scream at each other. Finally Dale admits that he wasn't really sick that day long ago - he was too scared of his opponent, and he lied so that Doug would go in his place. Doug's relieved: he's been waiting to hear Dale admit that secret for 40 years. They hug it out. Skip and his tour have watched the whole thing and offer a polite round of applause.