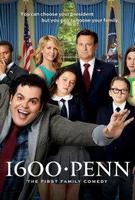 TV Info
---
Episode Premiere
January 24, 2013

Distributor
NBC

Genre
Comedy

Show Period
2012 - 2013

Production Company
20th Century Fox Television


Cast and Crew
---
Director
Jason Winer
Screenwriter
Peter A. Knight
Main Cast
Additional Cast
David St. James
Rebecca Wysocki
Synopsis
---
Skip finds his dad in a White House hallway and excitedly tells him about his new career choice: magic. The President dismisses the idea out of hand, but Skip persists, going so far to pull a coin from behind his dad's ear. But the President is unconvinced.
The First Lady is getting very specific instructions from Winslow, the White House's Chief Protocol Officer, on how specifically to greet the dignitaries. Emily is irked at Winslow's condescending attitude; she's met the Austrians before and would love to drop some of the pomp and circumstance. The President is pulled aside by an aide; he's needed in the Situation Room. Inside, the military aides tell the President that they've located the father of Becca's child. As it turns out, he's not in the U.S. Navy, but is, in fact, a clerk at Old Navy. A Secret Service detachment picks him up.
The President grills the young man in the Oval Office. As the kid is sweating bullets, Becca arrives and asks her dad to leave her and D.B. alone. It's an awkward meeting: D.B.'s unaware that Becca's pregnant. He's floored and excited by the news and immediately drops to a knee to propose. Becca waves him off, explaining that she plans to raise her child on her own. She excuses herself, leaving D.B. in the Oval Office by himself.
Skip's been in his father's bathroom nearby and heard the whole thing. He enters the room and introduces himself to D.B. They have a heart-to-heart chat, and Skip realizes that he and D.B. are practically spiritual brothers, sharing a fondness for taco salad, "Thundercats" and more. Later, Skip tracks Becca down to tell her how much he adores D.B. But Becca explains D.B.'s basically a stranger, someone she has practically nothing in common with. They haven't even been on a proper date, she tells her brother. Matchmaking wheels begin turning in Skip's brain.
As the Gilchrists and the Austrians enjoy a private lunch, the Austrian Chancellor's husband wonders why they're not eating off of the historic Hapsburg china that was given as a gift to the United States. Emily had instructed Winslow, the stuffy protocol officer, that the china was not to be used. Realizing her breach, Emily explains that the china is to be used at tonight's special dinner.
Skip is intent on getting the sparks to fly between his sister and D.B. He conjures up a romantic dinner for the two of them, gathering roses and flowers and the Hapsburg china and setting it all up at a small table near a window. At first Becca is outraged at Skip's meddling, but she agrees one meal won't hurt. It's an awkward meal, made no less so by Skip's repeated interruptions. Skip can't help but demonstrate a magic trick to his favorite young couple. As Emily looks on in horror, Skip proceeds to pull the tablecloth out from underneath Becca and D.B.'s meal. Of course, it's being served on the Hapsburg china. Emily scurries in to rescue the china before more damage can be done, gathering up the plates and cups in her arms. But as she's hurriedly pushing the service cart filled with the precious place settings back to the kitchen, she hits a bump on the floor, and the china comes crashing down.
Becca pulls D.B. aside to let him know that they're just too different for her to see it working out. She tries to let him down easy, but it takes some time for the message to sink in. Defeated, D.B. asks for a ride back to the shopping mall. Emily sees a sad Becca, and they compare travails. Neither of them is having a fun day.
Winslow walks in and gasps as he realizes the First Lady has destroyed an important historical gift to the United States. He offers to quit rather than see the President take the blame, but Emily refuses his resignation. Downstairs, the Austrian First Couple arrive for dinner. Just as Emily is about to admit she ruined the china, the Chancellor's husband crashes through an antique chair just as he's starting to sit on it. Winslow and Emily explain the chair once belonged to George Washington - it's priceless. It's a perfect time for Emily to confess she destroyed the Hapsburg china. These things happen to even well meaning people she explains.
Meanwhile, Becca's decided it's time for a little trip to the mall. Accompanied by the President and a security detail, they barge into the Old Navy store to find D.B. The President apologizes to D.B. for being so harsh at their first meeting. Becca's contrite too, saying she really would like to get to know him better. He accepts their invitation to eat at the White House and offers the President a warm hug.
Outside on the White House lawn, D.B. has joined the Gilchrists and the Austrian delegation for a feast. Winslow tells Emily sotto voce that they caught a break about the china, thanks to a timely loosening of the screws on the famous George Washington chair. Meanwhile, Becca's ready for a few family pictures, even some with D.B. in the picture. Perhaps there's hope yet.