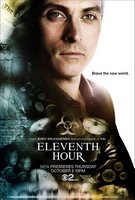 April 01, 2009 04:04:41
"
Eleventh Hour
", the CBS crime drama, is close to wrapping up its first season. On April 2, the series will wind down with the episode called "Medea" which preview is available.
A high level FBI agent is accused of stealing a woman's child and Dr. Hood is the only one who believes it. Helen Slater ("
Smallville
", "
Supernatural
") guest stars.
...
November 28, 2008 04:11:33
Sneak peek to "
Eleventh Hour
" episode 1.08 has been revealed through a recently released preview. In the preview, several victims suddenly collapse and die after experiencing some particular symptoms. The snippet also shows how FBI unit and Dr. Jacob Hood are investigating the peculiar case.
Entitled "Titans", FBI's special science advisor, Hood, travels to a collage in Oklahoma to investigate why some college students are dying of the bends, a condition of sudden and dangerous decompression normally seen only in scuba divers. As the investigation goes further, Hood, who is played by
Rufus Sewell
, will uncover an elaborate medical cover-up on campus.
...