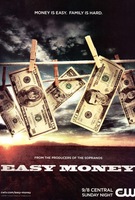 TV Info
---
Category
TV Series
Genre
Comedy, Drama
Starring :
Laurie Metcalf
, Jeff Hephner, Katie Lowes, Jay Ferguson, Nick Searcy, Marsha Thomasan

October 14, 2008 03:10:39
The CW drama series, "
Easy Money
" and "
Valentine
", will be shut down temporarily. Media Rights Capital as the producer of the series has confirmed on Monday, October 13, that the hiatuses are given for about 4 to 6 weeks.
An MRC spokeswoman said that the time-off has the function to give the writers time to finish the script schedule. It also can give time for MRC to examine the shows' ratings which later on can be the basis to decide whether the shows must go on or not.
...