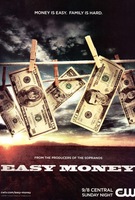 TV Info
---
Category
TV Series
Genre
Comedy, Drama
Seasons
1
Production Co.
Media Rights Capital
Distributor
The CW
Official Site
click here

Cast and Crew
---
Main Cast
Laurie Metcalf as Bobette Buffkin
Jeff Hephner
Katie Lowes
Jay Ferguson
Nick Searcy
Marsha Thomasan
The Story
---
Sometimes it's hard for us to feel connected. We feel alienated in our home, apart from our own family. Morgan Buffkin (Jeff Hephner, "Nip/Tuck", "The O.C.") is no exception. He's the favored son helping to run Prestige Payday Loans, his eccentric family's enormously successful short-term loan company. While his mother Bobette (Laurie Metcalf, "Stop-Loss," "Desperate Housewives," "Roseanne"), the brains behind the business, dotes on him and sings his praises, Morgan has never quite fit in and he's doubting the ever-shifting stories she's woven about his childhood in the Buffkin household. Furthermore, he's having second thoughts about being the "heavy" for Prestige--running down ne'er-do-wells and gambling addicts--in an era of subprime mortgage lending and four dollar gasoline.
In Bobette's own words, Morgan is "the rock" of clan Buffkin, yet he can't help but wonder how his relatives have gone so astray. Bobette is as cunning in collecting late fees as she is magnanimous about doling out loans with a weekly interest rate; Roy (Nick Searcy, "Rodney," "Boston Legal") is a seemingly oblivious paterfamilias; and sister Brandy (Katie Lowes, "The Sopranos," "Rescue Me") overshares a new personal problem with Morgan every day. Morgan's brother Cooper (Jay Ferguson, "Sleeper Cell", "Surface") is a socially inept computer whiz whose porn addiction and immaturity is starting to chafe his wife Cherise. And Cooper's carelessness at Prestige helps put the Mamayo Brothers, a combined 500 lbs. of Samoan loan shark thuggery, in Morgan and Bobette's faces.
Morgan shores up his patience to deal with his awkward family and the Mamayos' not-so-implicit threats, sometimes venting to his cynical, bookworm friend George. But it'll take more than casual conversation to help Morgan fend off the usual motley crew of local yokels including a corrupt local cop, a stripper with a knee brace, a mummy, and a flailing ventriloquist. Morgan himself knows he needs an oasis and fatefully, he finds that in beautiful, brainy, genetics grad student Julia (Marsha Thomason, "Lost," "Las Vegas").
Julia is Morgan's port in the storm. She's someone in whom he can completely put his trust--except that he lies to her about his family's business, worrying that his job as a Shylock would prove unacceptable to her. She offers to help him unlock his past in order to find the truth about the laundry list of discrepancies between himself and his kin.
This is Morgan's world, the southwestern city of South Nile we're dropped into on the CW's newest dark comedy, "Easy Money," created by Diane Frolov and Andy Schneider ("The Sopranos," "Northern Exposure"). Be ready for the unique, sometimes dark, often hilarious challenges "Easy Money" throws your way, challenges like family and money. Neither one of them is easy to deal with, and few people know this better than Morgan Buffkin.
The Stills
---