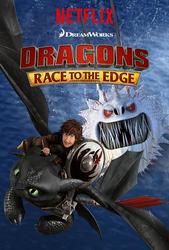 TV Info
---
Category
TV Series
Genre
Animation, comedy
Starring :
Jay Baruchel
, Nolan North,
America Ferrera
, Zach Pearlman, Chris Edgerly,
T.J. Miller
,
Christopher Mintz-Plasse
, Stephen Root, Julie Marcus, Tim Conway

In the new season, DreamWorks Dragons: Defenders of Berk Hiccup (Jay Baruchel, This Is The End) and his dragon Toothless lead the way as the gang graduates from experienced riders to confident defenders. The group will face a surprising enemy, rare and wild dragons and exciting adventures. As an unforeseen villain emerges, the trainers must develop their skills and defend the Viking Island of Berk. The kids take it upon themselves to protect Berk and form a secret "Dragons Flight Club" to battle old foes with new dragon knowledge and flying skills. Hiccup tries his hand as an inventor, while Fishlegs (Christopher Mintz-Plasse, Superbad) becomes the most popular man in town. The group also learns the important lesson of not taking your dragon for granted.