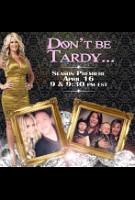 TV Info
---
Category
Reality TV
Genre
Reality, Documentary
Starring :
Kim Zolciak
, Kroy Biermann, Colin Cowie

November 17, 2011 10:11:44
Kim Zolciak
is getting her own starring vehicle on Bravo. The star of "
The Real Housewives of Atlanta
" will get the spotlight in a new series titled "
Don't Be Tardy for the Wedding
" which documents her preparation for her extravagant wedding, the network has announced.
Each thirty-minute episode of the docu-series is promised to give "an up close and personal look at the next chapter" in Kim's life. "My life has turned into a true Cinderella story and to watch the pieces unfold is going to be great!" so the 33-year-old TV personality teased. "I can't wait to share with all of you!"
...