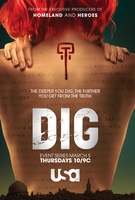 July 15, 2014 03:07:07
The political tensions in Israel have affected the production of at least two American TV series. USA Network's new series "
Dig
" has extended its scheduled hiatus while assessing the situation before deciding whether they can continue the filming in Jerusalem. The show has been on a scheduled hiatus for the past week and now the break will continue for another week.
"This caught us off-guard and we are assessing," executive producer Gideon Raff said of the situation at TCA summer press tour in Beverly Hills on Monday, July 14. He added that they're "looking at all options." He said, "Hopefully everything will calm down and we'll go back to what we planned and if not, we'll sort it out," explaining that "Jerusalem is a key element in our show. We chose to shoot there because of its history."
...