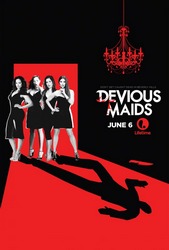 TV Info
---
Category
TV Series
Genre
Drama
Starring :
Ana Ortiz
,
Dania Ramirez
,
Roselyn Sanchez
, Edy Ganem,
Judy Reyes
, Rebecca Wisocky, Tom Irwin, Brianna Brown, Brett Cullen, Mariana Klaveno,
Grant Show
,
Susan Lucci
, Drew Van Acker, Matt Cedeno, Wole Parks,
Gilles Marini
,
Paula Garces

"Devious Maids" is set in a world where murder and mayhem collide in the mansions of Beverly Hills' wealthiest and most powerful families. Class warfare has never been as fun and dirty as it is in the tiny enclave where the staff is as clever, witty and downright devilish as their employers. The series centers on a close-knit group of maids, Marisol (Ortiz), Rosie (Ramirez), Carmen (Sanchez), Valentina (Ganem) and Zoila (Reyes), who are bonded together by their jobs, life struggles and the melodramatic universe that engulfs their employers.