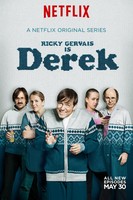 TV Info
---
Category
TV Series
Genre
Comedy
Starring :
Ricky Gervais
, Karl Pilkington, David Earl, Kerry Godliman

March 27, 2015 02:03:10
After two seasons,
Ricky Gervais
' "
Derek
" will wrap up with a special which has been previewed in a trailer. In the one-hour "Derek Special", Hannah (Kerry Godliman) and Tom (Brett Goldstein) are planning a wedding, and Kevin (David Earl) is in hospital.
Derek faces a lot of changes, including a baby and potential goodbyes. Tom gets a new job, which allows him to spend more time with her, but Derek worries that Hannah won't come back. Derek is also unhappy with Hannah for upsetting Kev, who goes missing. Meanwhile, Vicky (Holli Dempsey) takes on more responsibilities.
...