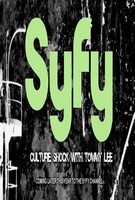 TV Info
---
Category
Reality TV
Genre
Reality, Travel
Starring :
Tommy Lee

March 22, 2011 03:03:08
Tommy Lee
is running a new project with Syfy. He will soon have his own reality show called "
Culture Shock with Tommy Lee
". According to
Entertainment Weekly
on Monday, March 21, the premise of the show is that the former drummer of
Motley Crue
will travel with an investigative team who will try to unlock the mysterious secrets of some previously unknown "secret societies".
Following NBC's six-episode run of "Tommy Lee Goes to College" in 2004, in which the tattooed rocker attended the University of Nebraska and tried out for school's marching band, Lee will attempt to uncover rituals, symbols and other mysteries of secret societies. Lee will engage himself in the history of each society, meet with former members and participate in their ceremonies.
...