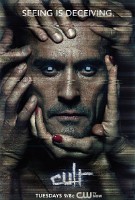 January 22, 2013 02:01:57
The CW has released a new promo for its newbie "
Cult
", highlighting the show's dark tone. The video is filled with creepy imagery of strange obsession, while voices of people who seem to be in fear are heard throughout the clip. Toward the end of it, a man is seen pulling a gun on his head, while another guy is holding a knife.
To premiere Tuesday, February 19 at 9 P.M. ET, "Cult" follows investigative journalist Jeff Sefton who searches for his missing brother. In the process, he uncovers the dark underworld of the TV show "Cult" and its rabid fans.
...