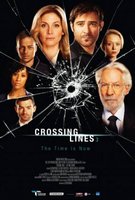 TV Info
---
Category
TV Series
Genre
Drama
Starring :
Goran Visnjic
,
Donald Sutherland
,
Elizabeth Mitchell
, Marc Lavoine, Richard Flood,
William Fichtner
, Gabriella Pession, Lara Rossi, Stuart Martin, Tom Wlaschiha, Naomi Battrick, Moon Dailly

"Crossing Lines" is an action-packed global crime drama. The series taps into a unit mandated by the International Criminal Court (ICC) to investigate cross-border crimes and ultimately bring global criminals to justice. "Crossing Lines" is set in the world's most exotic locales, where an elite team of eager cops work to solve the most notorious international crimes.
New series leads Goran Visnjic (ER) and Elizabeth Mitchell (Lost) join Donald Sutherland (The Hunger Games) and Tom Wlaschiha (Game of Thrones). Frank Spotnitz (The X-Files) and Rola Bauer (Spotless) are Executive Producers.
"Crossing Lines" Season Three begins six months after the heart-stopping conclusion of Season Two. In Season Three's first episode one of Dorn's (Donald Sutherland) top prosecutors has vanished and he must reactivate the ICC team to find her. Kidnapping expert Marco (Goran Visnjic) and Carine (Elizabeth Mitchell), a skilled investigator, are new team members joining Sebastian (Tom Wlaschiha) and Arabela (Lara Rossi).