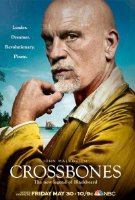 TV Info
---
Category
TV Series
Genre
Drama
Starring :
John Malkovich
, Yasmine Al Massri, Richard Coyle, Claire Foy, David Hoflin, Tracy Ifeachor, Chris Perfetti

April 23, 2014 12:04:14
Summer is fast approaching and NBC is gearing up to debut its new show, "
Crossbones
". The network has now dropped the first trailer for the pirate drama, giving a look at
John Malkovich
as the legendary pirate Edward Teach a.k.a. Blackbeard.
In 1715 on the Bahamian island of New Providence, Blackbeard reigns over a rogue nation of thieves, outlaws and miscreant sailors. To gain control of this fearsome society, Tom Lowe (Richard Coyle), a British assassin, is sent to the buccaneers' haven to take down the brilliant and charismatic Blackbeard.
...