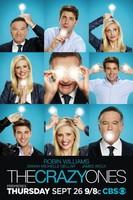 October 19, 2013 10:10:15
CBS has just ordered more episodes of its three new comedies, "
The Crazy Ones
", "
The Millers
" and "
Mom
". The network gives back-nine episode orders to the trio of freshmen, bringing them to a complete 22-episode season each.
"We're proud of CBS' leadership position in comedy and excited to build on it with the back nine pickups of these three new comedies," says CBS Entertainment president Nina Tassler. "These series are creatively distinct, continue to improve each week and are led by strong showrunners, writing and production staffs, and feature amazingly talented casts."
...