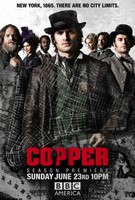 TV Info
---
Category
TV Series
Genre
Drama
Starring :
Tom Weston-Jones
,
Franka Potente
, Kyle Schmid,
Anastasia Griffith
, Ato Essandoh, Kevin J Ryan, Dylan Taylor,
Alfre Woodard
, Donal Logue, Kiara Glasco, Tanya Fischer, Tessa Thompson, Ron White, David W. Keeley, Alex Paxton-Beesley,
William Baldwin

October 20, 2012 08:10:18
BBC America has given a vote of confidence to freshman "
Copper
". The period drama, which marks the network's first foray into original scripted series, has been picked up for a second season which will expand to 13 episodes.
"BBC America's first original scripted series, 'Copper', has proven to be a perfect fit for the channel. Our viewers have made it our highest-rated series premiere ever and highest-rated drama series ever," said Perry Simon, General Manager, Channels for BBC Worldwide America.
...
August 04, 2012 10:08:00
BBC America is set to unleash its first original scripted series "
Copper
" later this summer and teases viewers by sharing a new extended trailer. The video highlights Kevin Corcoran, an Irish-American former boxer turned cop, who refuses to back down from bringing justice in a corrupt society.
In 1864's New York City, Corcoran is the finest cop. He returns from the Civil War to find his wife missing and his daughter dead. Now working in the city's notorious Five Points neighborhood, he is struggling to maintain his moral compass in a turbulent world while on an emotional and relentless quest to learn the truth about what happened to his family.
...