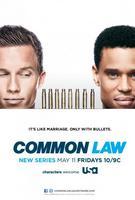 June 07, 2012 01:06:20
When "
Common Law
" returns later this week, Travis and Wes find another thing they can't agree over. In an exclusive clip for AceShowbiz, the detective duo opt to grab some junk food after arguing about where they should go for lunch, only to find themselves getting into a messy food war.
Still wearing their dirty clothes, Travis and Wes reluctantly discuss their latest fight at their therapy session. Wes accuses Travis of starting the war by purposely spilling sauce on his hand. At the end of the clip, they still blame each other for the incident.
...
November 02, 2011 02:11:00
A first look at new buddy cop series "
Common Law
" has been made available in a form of a trailer. It sees two acclaimed LAPD homicide detectives who get arguing with each other any time, including when they are chasing the bad guy.
Since constant bickering gets in the way of their work, the two end up on probation. To revive their flagging professional relationship, their captain sends them to a couple counseling with therapist Dr. Ryan who will help them try to understand and resolve their conflicts.
...