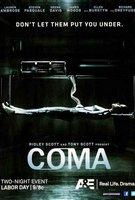 September 03, 2012 11:09:25
"
Coma
" promises thrilling scenes that will keep audience awake this Labor Day, according to
Geena Davis
who stars on the A&E miniseries. In a chat with Entertainment Weekly, the actress who portrays chief of psychiatry Dr. Agnetta Lindquist says the show is "very disturbing," thanks to the advanced technology used in the show.
"I remember the movie that came out...with
Michael Douglas
in it. And it's very visually arresting the way they portrayed the medical things and the people in comas," she says when comparing the original 1978 film with the upcoming miniseries. Admitting the movie "was really creepy and spooky," she goes on claiming that the new take is "even creepier and spookier."
...
August 15, 2012 03:08:43
Those who are addicted to conspiracy plots may find a pleasure by watching "
Coma
". The miniseries is set to debut this Labor Day on A&E and is previewed in a video which gives a look at a chilling conversation about an unusual way to treat patients, in which they are "suspended by painlessly-inserted rods."
In the thriller, a young medical student discovers that something sinister is going on in her hospital after routine procedures send more than a few seemingly healthy patients into comas on the operating table.
Lauren Ambrose
portrays the student, joined by the likes of
Steven Pasquale
,
Geena Davis
,
James Woods
and
Richard Dreyfuss
in the cast line-up.
...