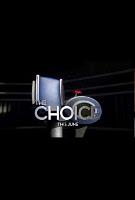 TV Info
---
Category
Reality TV
Genre
Reality, Romance
Starring :
Cat Deeley

May 03, 2012 11:05:43
FOX has greenlit a new reality show which will feature blind auditions and spinning chairs like "
The Voice
", but it's not a singing competition. Instead, the program titled "
The Choice
" is a dating show which will see four eligible celebrities seeking for their potential love interests.
The reality series will premiere Thursday, June 7 at 9 P.M., but the network has not unveiled any name of the participating celebrities. "
So You Think You Can Dance
" host
Cat Deeley
, meanwhile, has been announced as the host for "The Choice".
...