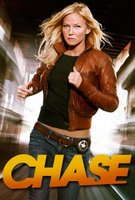 April 07, 2011 11:04:18
NBC has found a slot for police drama "
Chase
" to complete its first season. The freshman was yanked out of NBC's schedule in early February when the rating could not meet up to the network's standard.
The network initially ordered a full 22-episode season but when the rating did not improve, the number is cut to 18 in December. The 13th episode aired January 26 and the rest of the episodes will now get screen time starting Saturday, April 23 at 8/7c for five weeks straight.
...
February 04, 2011 02:02:30
NBC is not going to continue to "
Chase
". The drama series which debuted last Fall has been pre-empted before but this time, it would be permanent. The Peacock has yanked the show from its midseason schedule, giving the Wednesday slot solely to "
Minute to Win It
".
The network first did an experiment on February 2, applying a two-hour broadcast of the game show. Turns out "Minute" delivered a series-high number, including 3.0 adult demo rating at 9 P.M. which is better than "Chase" rating the night before. The series which is led by
Jesse Metcalfe
among others, only scored 1.2 rating in the same demographic.
...