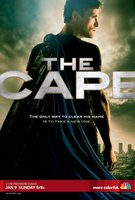 December 27, 2010 03:12:01
Ahead of "
The Cape
" premiere on January 9, 2011, NBC shares new footage which combines action-packed scenes with some behind-the-scene footage. Brief interviews with its main actors like
David Lyons
,
Keith David
and
Summer Glau
are included as well.
It's a good cop Vince Faraday "who was framed for a crime he did not commit, assumed dead by his family, by everyone, and takes on the persona of The Cape which is a comic book character that he used to read to his son," Lyons explained the character he is playing in the TV series.
...
March 13, 2010 11:03:50
Having ticked "Firefly", "
Terminator: The Sarah Connor Chronicles
" and "
Dollhouse
" on her list,
Summer Glau
sets her eyes on a new series. The 28-year-old actress has nabbed a leading role on the pilot of NBC's "
The Cape
" which is directed by Simon West.
The pilot stars
David Lyons
as a former cop who has a double identity to clear his name. Lyons' character is framed and set up as a criminal thus he becomes a masked superhero, the Cape, to restore his reputation.
...