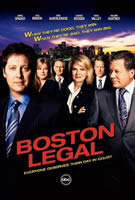 TV Info
---
Category
TV Series
Genre
Drama, Comedy, Crime
Starring :
James Spader
, John Larroquette, Christian Clemenson,
Candice Bergen
,
William Shatner
, Gary Anthony Williams, Tara Summers,
Saffron Burrows
,
Taraji P. Henson

A spin-off of the long-running series "The Practice", "Boston Legal" tell the professional and personal stories of a group of brilliant but often emotionally challenged attorneys. Fast-paced and wildly comedic, the series confronts social and moral issues, while its characters continually stretch the boundaries of the law.
"Boston Legal" was created by David E. Kelley. Stars James Spader as Alan Shore, John Larroquette as Carl Sack, Christian Clemenson as Jerry Espenson, Gary Anthony Williams as Clarence/Clarice Bell, Tara Summers as Katie Lloyd, Saffron Burrows as Lorraine Weller, with Candice Bergen as Shirley Schmidt and William Shatner as Denny Crane.