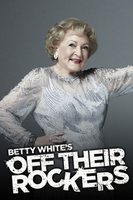 TV Info
---
Category
Reality TV
Genre
Comedy
Starring :
Betty White

October 22, 2013 08:10:20
Betty White
knows how to got people talking about her and her TV show. Soon after it was announced that Lifetime would bring "
Betty White's Off Their Rockers
" back for a third season after it ran for two seasons on NBC, the veteran comedienne releases a promo for the reality comedy series.
In the less-than-30-second clip, White says, "I got some ideas from recent pop culture events that really got the kids talking," before recreating a scene from
Miley Cyrus
' racy music video "Wrecking Ball". She crashes through a wall riding a wrecking ball, but unlike the young star who got naked in her clip, the 91-year-old is clothed in a white ensemble.
...
July 12, 2013 08:07:09
NBC has pulled the plug on "
Betty White's Off Their Rockers
". Sources tell The Hollywood Reporter that the network has decided not to pick up the veteran comedienne-hosted prank show for a third season.
The reality comedy series, which wrapped up its second and now final season on July 9, featured Emmy and Golden Globe-winning actress
Betty White
overseeing eldery people playing pranks on younger ones. The show launched in January 2012 coinciding with an NBC special to celebrate White's 90th birthday and began airing in its regular slot in April the same year.
...