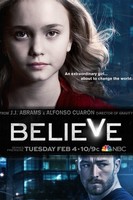 May 20, 2013 04:05:18
The first look at another new show from NBC has landed online. From executive producer J.J. Abrams, "
Believe
" revolves around Bo, a ten-year-old girl who has super powers: levitation, telekinesis, the ability to control nature, and even predict the future.
The orphaned girl has been safeguarded from harmful outsiders who would use her forces for personal gain. With her life and future now in jeopardy, the "Believers" turn to the only person they see fit to be her full-time protector, Tate, a wrongfully imprisoned death row inmate who's lost his will, until he witnesses one of her extraordinary abilities.
...
January 26, 2013 09:01:15
More works from J.J. Abrams are about to grace the small screen. Hot on the heels of his
recently confirmed
"Star Wars Episode 7" directing gig, his two TV dramas have got pilot orders from NBC and FOX.
The Peacock is giving a vote of confidence to "
Believe
" from the "
Star Trek
" helmer, who will serve as executive producer alongside Bryan Burk and Alfonso Cuaron. Mexican filmmaker Cuaron will also pen the script for the pilot.
...