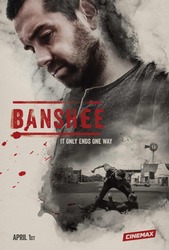 TV Info
---
Category
TV Series
Genre
Crime, Drama, Mystery
Starring :
Antony Starr
,
Ivana Milicevic
, Ulrich Thomsen,
Eliza Dushku
, Hoon Lee, Ben Cross, Frankie Faison,
Lili Simmons
, Matthew Rauch, Rus Blackwell, Casey LaBow, Ryann Shane

August 30, 2012 03:08:03
Cinemax has given a glimpse of its new show "
Banshee
" by debuting the first teaser. The short preview doesn't give a hint about the plot details, but it teases some action-packed scenes. "How can one town have so many scumbags?" says a female character in the video.
The series is set in Banshee, Pennsylvania, a small town in the heart of Amish country, where an ex-convict and master thief assumes the identity of the sheriff. He imposes his own brand of justice while also cooking up plans that serve his own interests, even though he's being hunted by the shadowy gangsters he had betrayed years earlier.
...