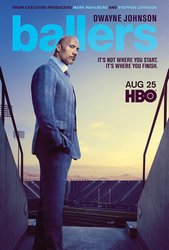 TV Info
---
Category
TV Series
Genre
Comedy, Drama
Starring :
The Rock
, Omar Benson Miller, John David Washington,
Rob Corddry
,
Arielle Kebbel
, Troy Garity, Donovan Carter, Jazmyn Simon,
Taylor Cole
,
LeToya Luckett

Looking at the lives of former and current football players, the show follows former superstar Spencer Strasmore (Dwayne "The Rock" Johnson) as he gets his life on track in retirement while mentoring other current and former players through the daily grind of the business of football.
Spencer is a retired football superstar who is trying to reinvent himself as a financial manager for current players in sunsoaked Miami. His inner circle includes Ricky, a talented but volatile wide receiver who seeks to balance his off-field antics with his passion for the game; Charles, a reluctantly retired lineman who's finding it hard to adjust to civilian life; and Vernon, a player with a rookie contract, whose promise never to forget "where he came from" brings scores of hangers-on into his life, and lands him in big financial trouble. Though they're pros when it comes to playing the game, each one has a harder time navigating life off the field.