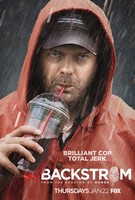 January 08, 2014 08:01:56
Rainn Wilson
is back on TV with "
Backstrom
". The one-hour drama from "
Bones
" boss Hart Hanson and starring the former "
The Office
" star has received a 13-episode series order from FOX. The project was originally developed at CBS during the 2013-14 pilot season but the Eye passed on it.
Based on the books of the same name by Swedish criminologist/novelist Leif G.W. Persson, the crime show centers on Detective Everett Backstrom (Wilson), an overweight, offensive, irascible detective as he tries and fails to change his self-destructive behavior. Hanson wrote the pilot and executive produces the series.
...