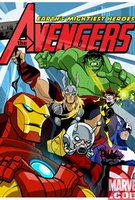 TV Info
---
Category
TV Series

Genre
Animation, Superhero, Action, Sci-Fi

Starring :
Eric Loomis, Colleen O'Shaughnessey, Brian Bloom, Chris Cox, James C. Mathis III, Fred Tatasciore, Rick D. Wasserman, Wally Wingert


May 04, 2012 09:05:48
Hot on the heels of "
The Avengers
" movie release in the U.S., Marvel will reportedly cancel "
The Avengers: Earth's Mightiest Heroes
" in favor of a new TV series about the superhero team. After Comic Book Movie broke the news in April, a Forbes article seemingly confirmed it as it stated that the company will introduce The Avengers animated TV series next year.
"While The Avengers' May 4 opening marks the end of the current multi-year plan, Marvel has already developed a detailed marketing strategy for the next five years... Marvel is introducing digital initiatives, new print and comic book titles, and The Avengers animated TV series on the in 2013," so part of the article read.
...
October 09, 2008 10:10:10
Marvel Animation assembles "Avengers" for the TV series version. The studio is already beginning to produce the series that will air for broadcast in 2011 with the title "
The Avengers: Earth's Mightiest Heroes
", based on the company's latest animated series.
The debut episode of "Avengers" TV series will be released at relatively the same time with "The First Avenger: Captain America" and "
The Avengers
", Marvel's upcoming live-action movies. Film Roman, the company behind "
The Simpsons
" and "
King of the Hill
" has been ordered to produce the 26-episodes for the first season.
...