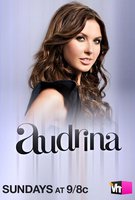 April 09, 2011 11:04:06
Post "
The Hills
",
Audrina Patridge
is having her own reality show called "
Audrina
". A peek into the show has now been provided in a trailer which follows the 25-year-old TV personality as she is juggling her acting with modeling and business career.
But the real drama might come from her family's life. With her tell-it-like-it-is mom Lynn and chilled-out dad Mark at the center of this crazy bunch, Audrina is still expected to have an active presence in the lives of her three younger siblings: her wild child sister Casey, her younger brother Marky who has an annoying habit of befriending Audrina's exes, and her 15-year-old sister Samantha who is already exhibiting a rebellious streak.
...