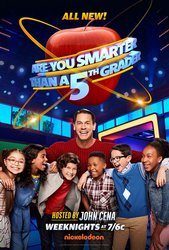 TV Info
---
Category
Game Show
Genre
Game-Show
Starring :
Jeff Foxworthy, Kyle Collier, Alana Ethridge, Jacob Hays, Spencer Martin, Mark Thompson, Marki Ann Meyer,
Laura Marano

November 07, 2014 08:11:34
Prepare to find out "
Are You Smarter Than a 5th Grader?
" FOX is reviving the popular game show which ran for three seasons from 2007 to 2009 on the network and then another two years in syndication. Comedian Jeff Foxworthy will once again host the show with Mark Burnett returning as executive producer.
"I have loved this competition from our first show and the timing couldn't be better for '5th Grader' to return to FOX, as there is nothing like it on television," said Burnett. "Kids today are smarter than ever and the adults who try to take them on will have an even harder task ahead of them."
...
July 16, 2009 04:07:09
Despite rumor suggesting that Malia Obama will appear in TV show "
Are You Smarter than a 5th Grader?
", recent report claimed the oldest daughter of U.S. president Barack Obama has actually declined FOX's offer. "Malia politely declined the invitation as it interfered with her school schedule," so it was said.
Malia reportedly was FOX's "first choice" when the network decided on who will be recruited as one of the five "classmates" for the game's new episodes. Back in September 2008, a transcript, which was claimed to be obtained from the show, hit the web. It revealed Sarah Palin being its contestant and staged to choose Malia as her classmate for an episode of the game.
...